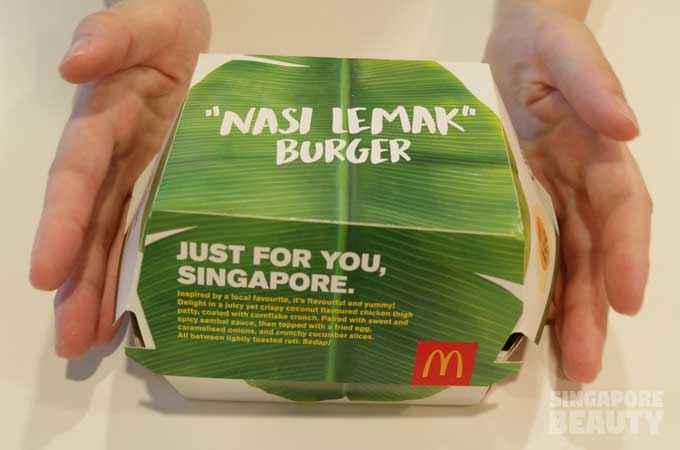 McDonald's has launched the Nasi Lemak Burger in conjunction with the Singapore Food Festival 2017. It shouts "JUST FOR YOU, SINGAPORE" to celebrate our up and coming SG52 National Day. Can't decide between a burger or a plate of nasi lemak? Get the best of both worlds with the Nasi Lemak Burger at Mcdonald's! This is a limited edition burger so get it while it last.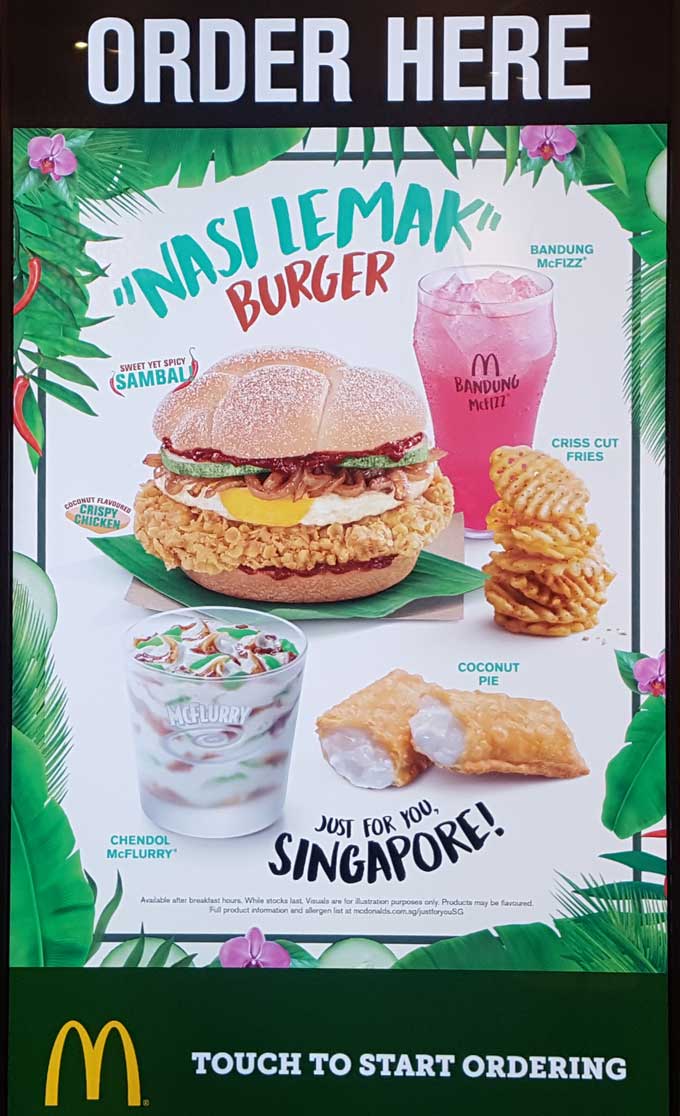 McDonald's has launched a whole new menu of Nasi Lemak Burger ($5.95), Bandung Mcfizz ($3.00), Chendol McFlurry ($3.00), Coconut Pie ($1.20), Kueh Salat Cake (only at McCafe), Pandan Coco Frappe (only at McCafe) and the return of our favourite Criss Cut Fries on Thursday, July 13,2017 for a limited time. These are available after breakfast hours from 11 am onwards, while stocks last, so hurry!
Nasi Lemak Burger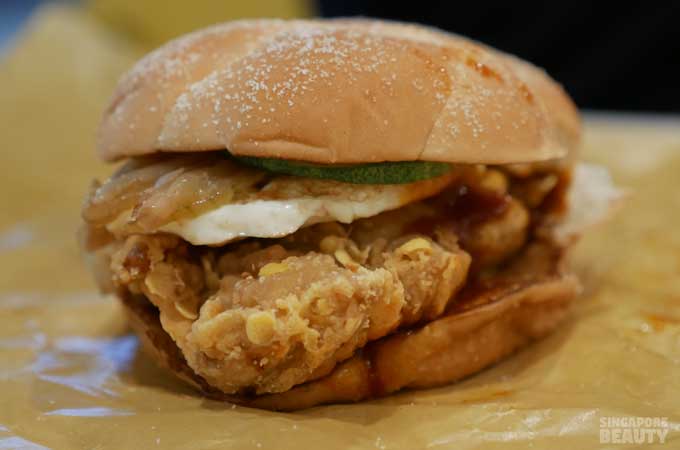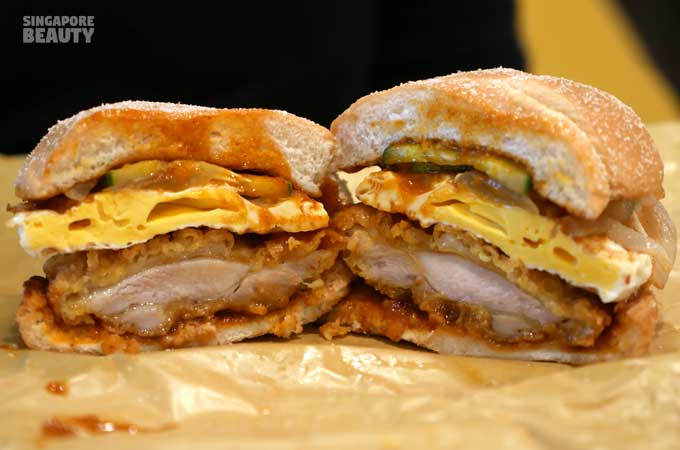 The Nasi Lemak Burger comes with a juicy tender coconut flavoured chicken thigh coated with a crispy cornflake crust. The patty is sandwiched between two soft and puffy golden semolina buns. These are the ideal buns for soaking up the sweet yet spicy sambal sauce. The crunch of the cornflake patty with the fried egg dances with the caramelised onions and the crunchy cucumber slices. The spicy sambal sauce gives the Mcdonald's Nasi Lemak Burger the extra oomph!
If McDonald's replaces the semolina buns with fluffy basmati rice or "fat rice" bun infused with fragrant creamy coconut milk, it will be sedap! Yes rice bun is possible! Just look at MosBurger. It's also missing the savoury crispy ikan bilis and the charcoal grilled otah in banana leaf.
Bandung McFizz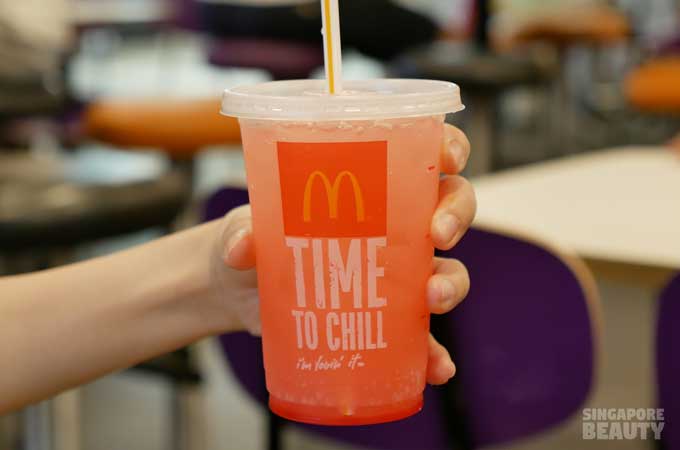 Bandung McFizz is bandung mixed with soda. We suggest that you take a few big gulps and anticipate a satisfied burp. It tastes like a floral fizzy aerated soda with a lovely flamingo pink- Singapore's first pink lemonade. We are instantly teleported to the beach, chillin breeze, cool tides, rustle of the leaves and sand between our toes. Very refreshing indeed.
The new sweet treats will end your meal on a high note. Indulge in one of these.
Chendol McFlurry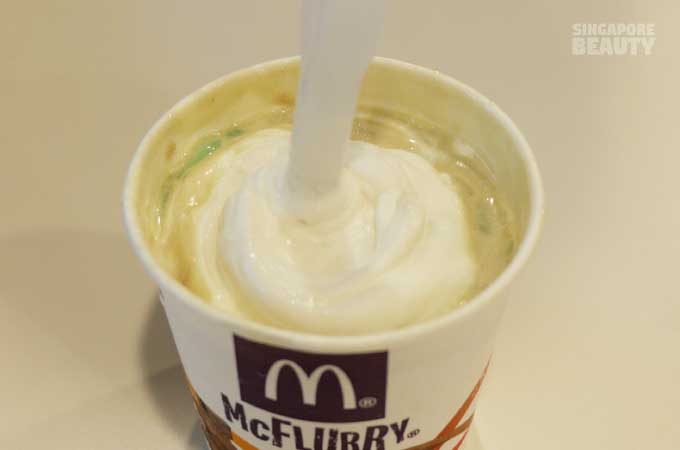 The Chendol McFlurry is finally here in Singapore after its brief appearance across the causeway in Johor Bahru. The all so familiar vanilla soft serve ice cream with a twist of jade green chendol jelly strips, coconut shavings and fragrant Gula Melaka sauce. Gula Melaka or 'Malacca Sugar' originated from Malacca is sugar extracted from the sap of flower buds found on the coconut tree.
Coconut Pie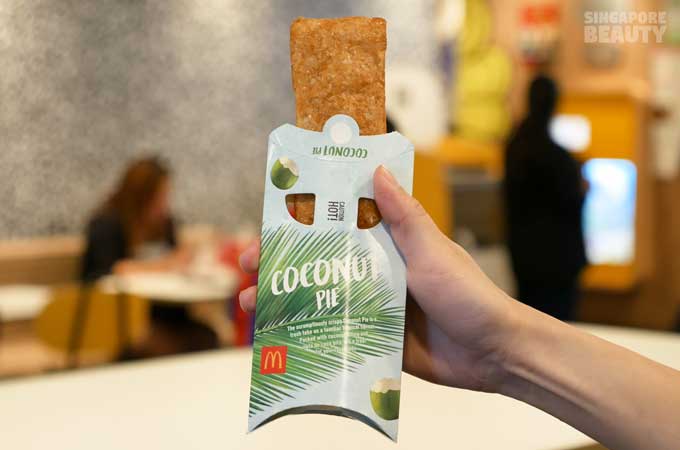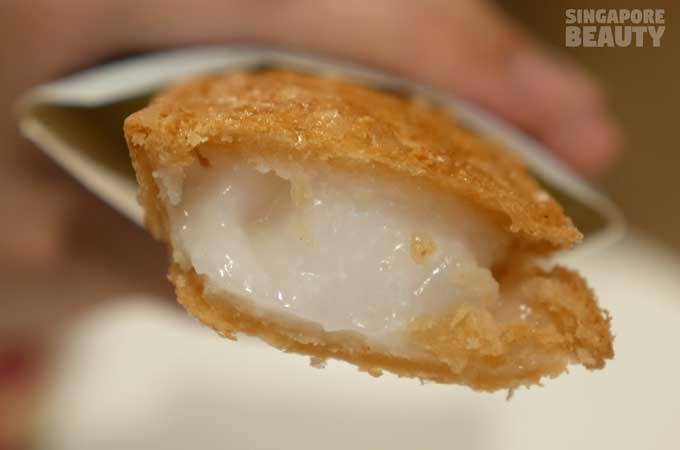 The Coconut Pie has the regular American apple pie crust. It oozes a gooey coconut filling with nata de coco bits.
Chendol Melaka Cone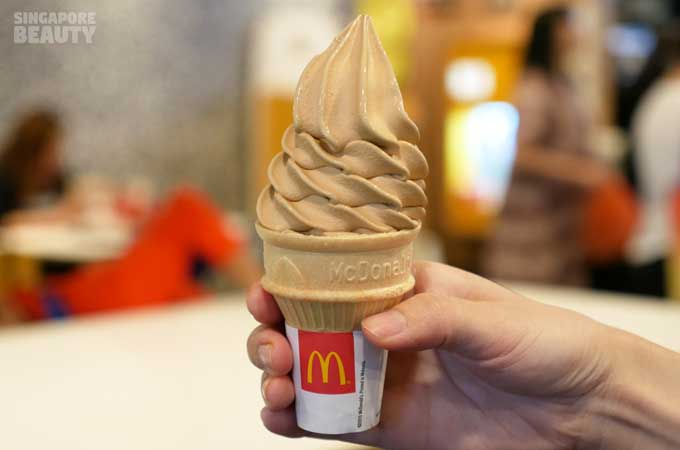 You can choose from 3 variety of chendol ice-cream cones — Chendol Melaka Cone, Chendol Melaka Twist and Chendol Melaka Chococone. The basic Chendol Melaka Cone is the best of them all. These creamy swirls of soft serve ice creams infused with Gula Melaka syrup are too hard to resist.
Criss Cut Fries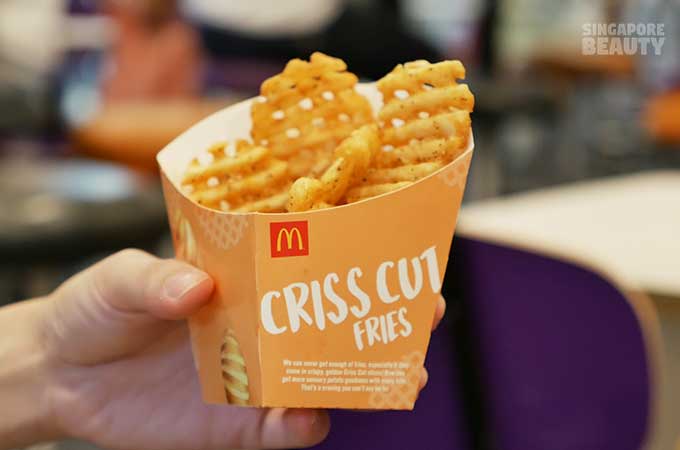 The Criss Cut Fries also make a return for a limited time only. So hurry before it's gone again.
You can also try their Kueh Salat Cake – a pandan flavoured sponge cake layered with glutinous rice or Pandan Coco Frappe – a blend of pandan and coconut flavours with grass jelly, both are only available at McCafe.
Our suggestions to McDonald's – add a begedil(a Malaysian term for deep fried potato patty) so we can dip it in the beloved Mcdonald's curry sauce.
I'm lovin' it. So head down to the nearest Mcdonald's today!
– this is not a sponsored post, we paid for our meal.