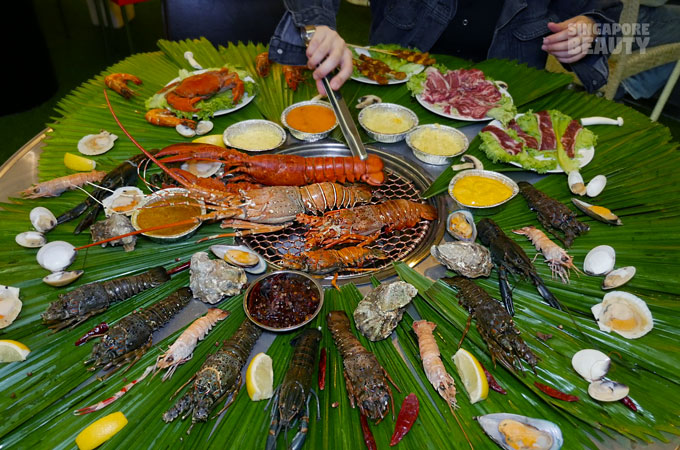 Lobster craze is now on at The Three Peacocks for a limited period only.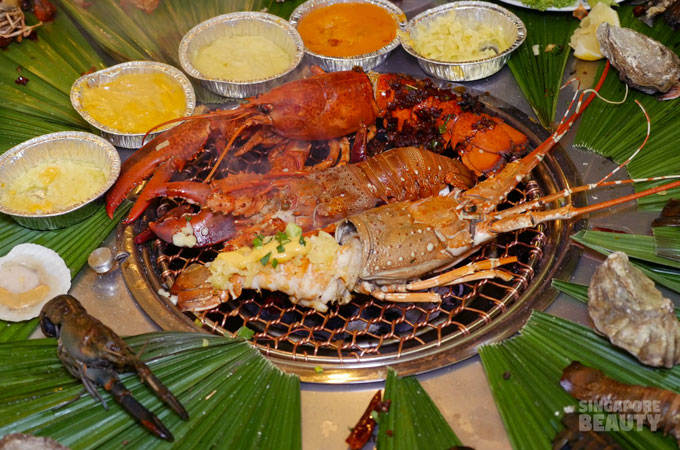 One complimentary mid size lobster for each patron, free flow baby lobsters/Norway lobsters, $10 nett for a whole good size Boston or Spiny Lobsters (limited to 1 per patron).
These are good size lobster that goes well with the newly introduced Mala sauce, garlicky butter sauce, 2 sets of fusion sauce from the Pearl of the Orient Seas and 5 selections of gourmet cheese.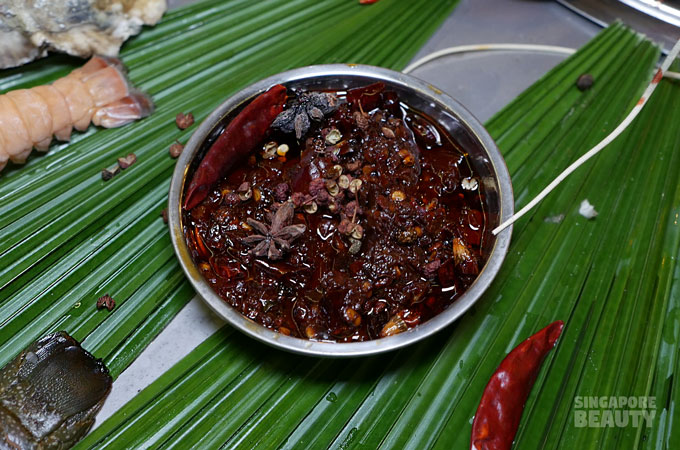 Mala sauce made with real toasted bird eye chilli, pepper corns and some other secret spices.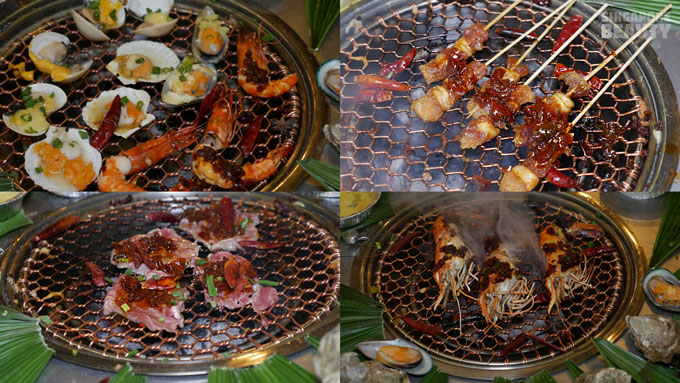 Grill the fresh tiger prawns with Mala Sauce. Be dazzled by the sweetness from the crunchy prawns and aroma from the smoking hot mala sauce. The Mala sauce is great for barbequing either seafood or the premium meat selections.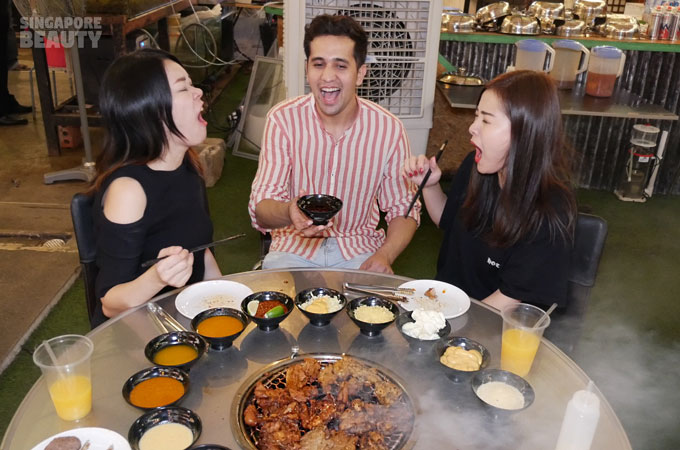 If you are up for some Mala challenge, ask for the hottest Mala sauce from The Three Peacocks. So fiery you can breathe fire like an inferno dragon.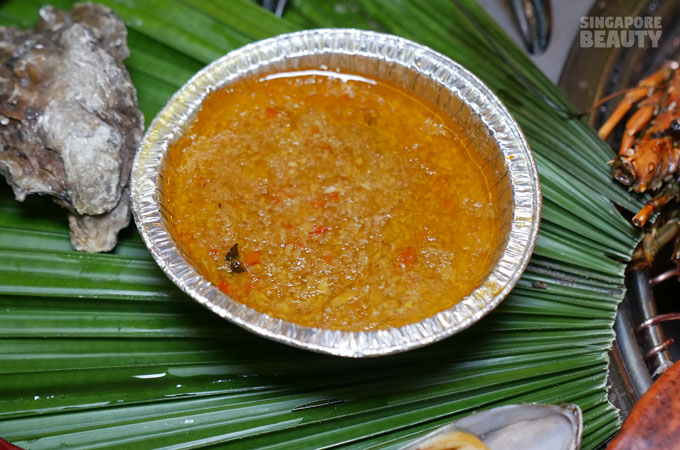 Next on the list to try is the Garlicky butter sauce.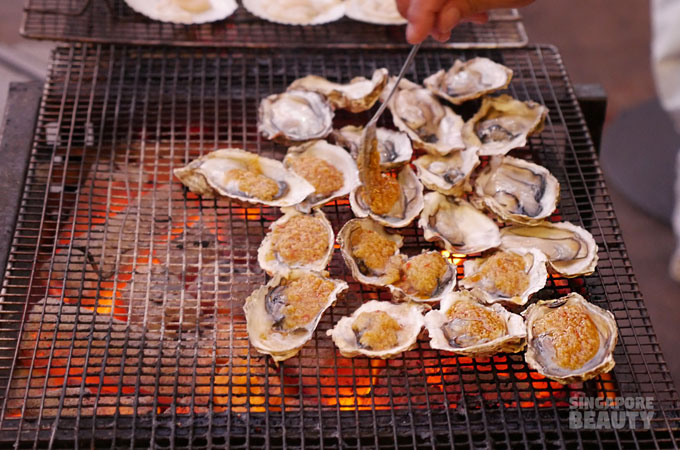 Garlicky butter sauce are best laid atop shellfish like live oysters, scallops, diamonds clams, mussels, white Venus clams and bamboo clams . Garlicky sauce roasting the shellfish in their own briny juice, bubbling away and emitting aromatic garlicky tones.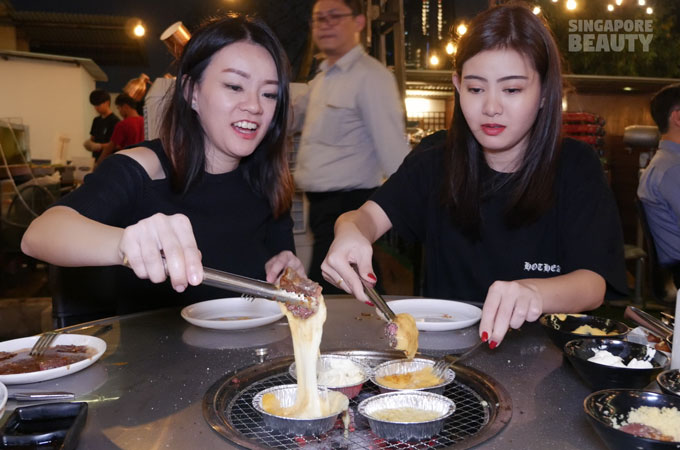 How about some gourmet cheese to go with the seafood? Selection of 5 types of gourmet cheese – mozzarella cheese with cheddar, Gouda cheese, cream cheese, Nachos cheese and Parmesan cheese.
7 ways to enjoy the cheese – melt the cheese, wrap them around the meat, do your cheese pull, spread the cheese, sandwiched them with meat, dip the cheese and dust them on your meat-to the fullest.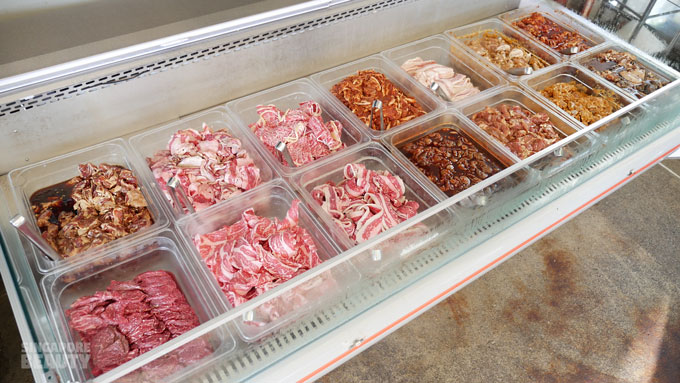 At the newly added meat counter, 14 varieties of marinated/ pure cuts of pork, chicken and premium free flow beef are up for grabs.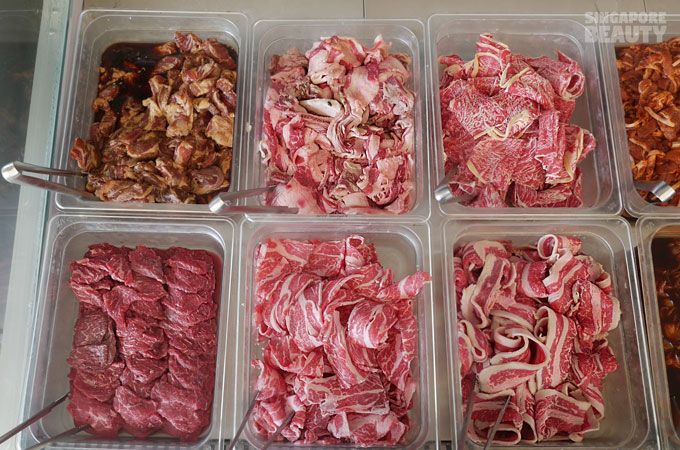 Look at these marbled beef and thick strips of bacon. Free flow finger ribs, rib eye, brisket, boneless short ribs, wagyu and karubi plate.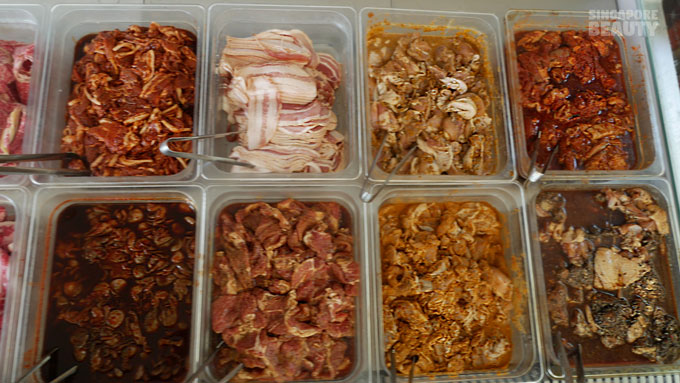 How about some marinated meats? Marinated meats are available in spicy pork belly, spicy octopus, bacon, miso pork collar, Italian chicken, tom yum, spicy bulgogi and black pepper chicken.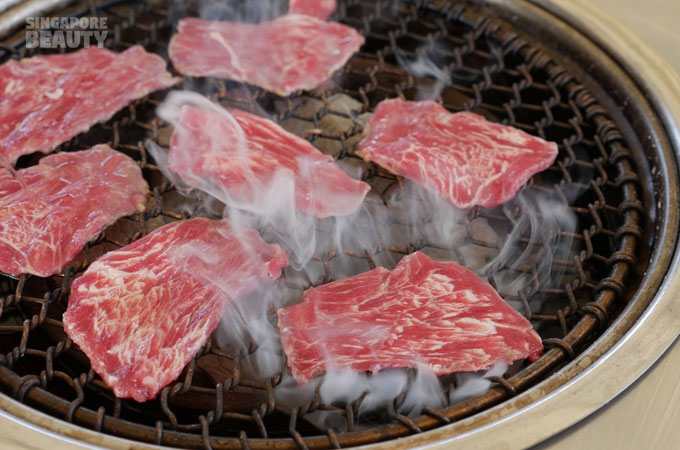 Rejoice Wagyu lovers! Feast on unlimited wagyu beef and get ready for that premium buttery Wagyu melting in your mouth.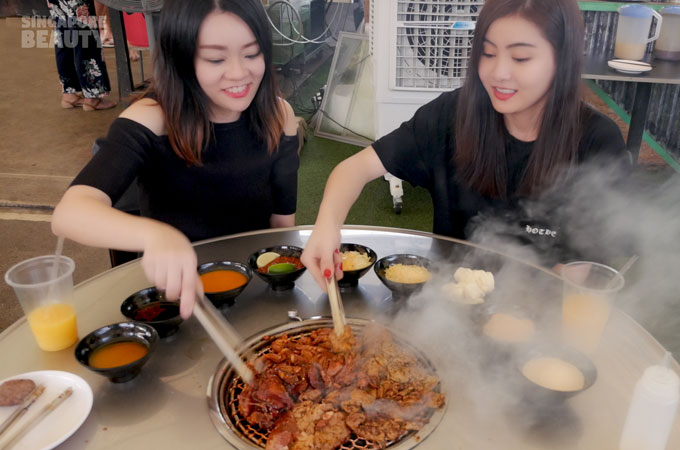 Get all these meat and sizzle them away on their new BBQ table.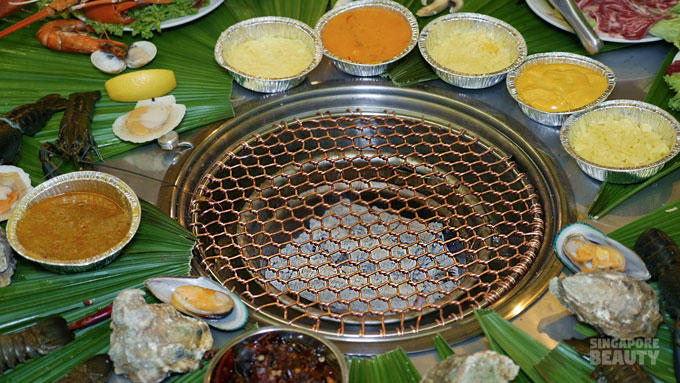 Newly customised clinical neat round table tops in comfortable size for groups of 6 pax or more.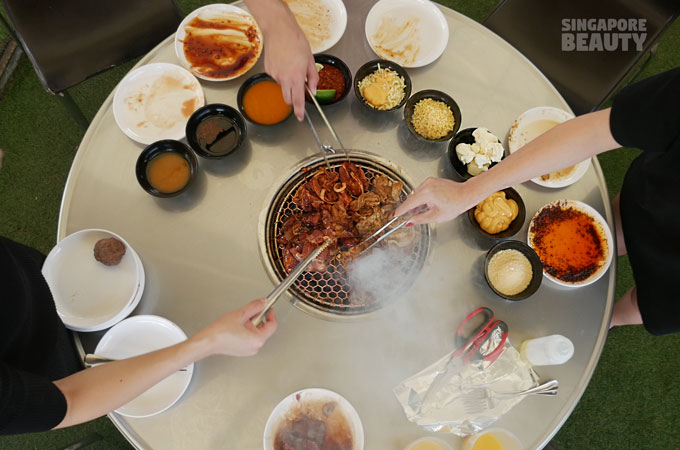 These meat sizzles away nicely atop white charcoal surrounded with a built-in pool of water to barbeque the meat slowly and evenly.
The results are cooked juicy tender meat to feast upon.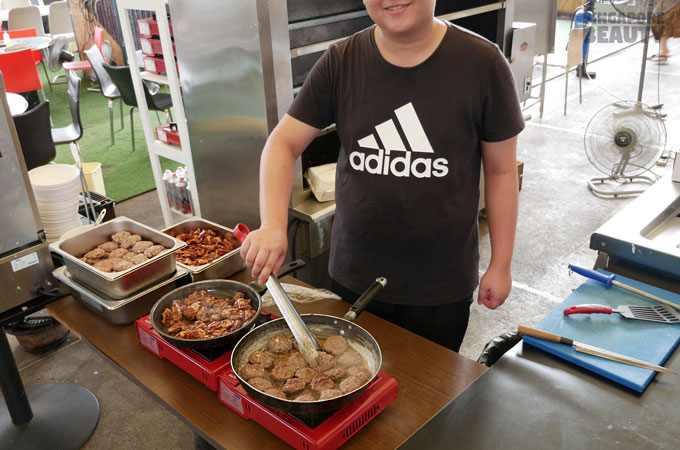 Get served at the live station of premium beef. Cooked fresh before you, served piping hot and tender from the pan.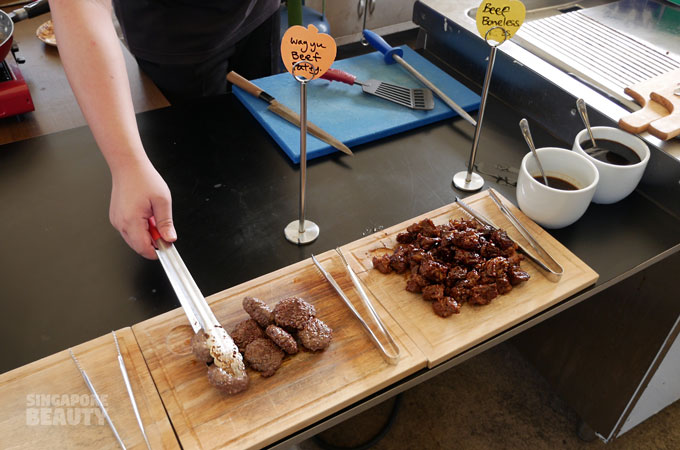 The live station meats are one of the must-have-dish at The Three Peacocks.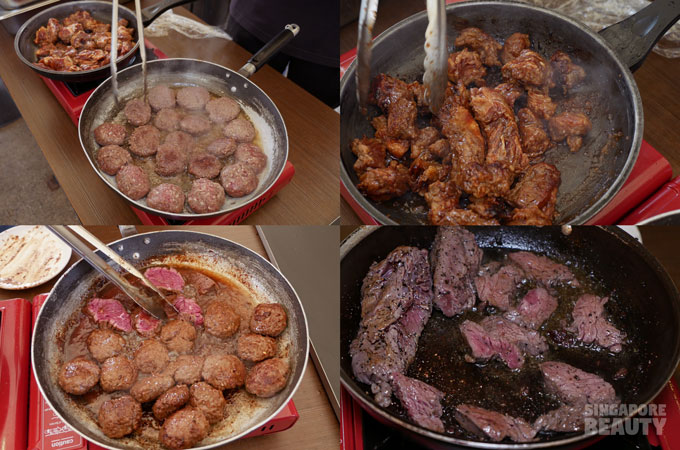 Hanging tenders, beef patty, wagyu, honeyed boneless ribs and many more premium beef. Missed this, you missed a big part of The Three Peacocks experience. These are so good.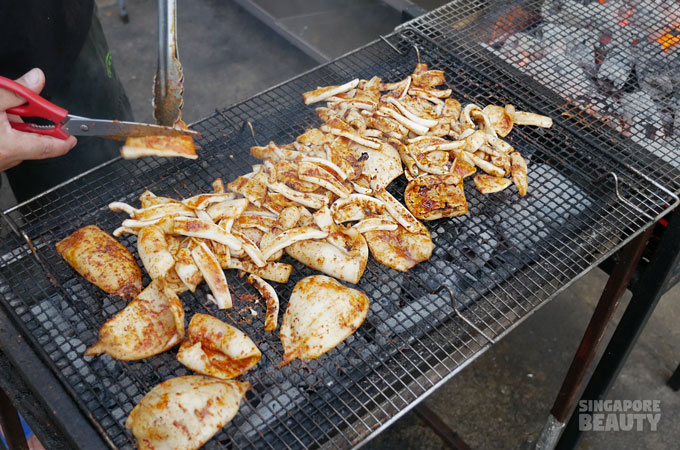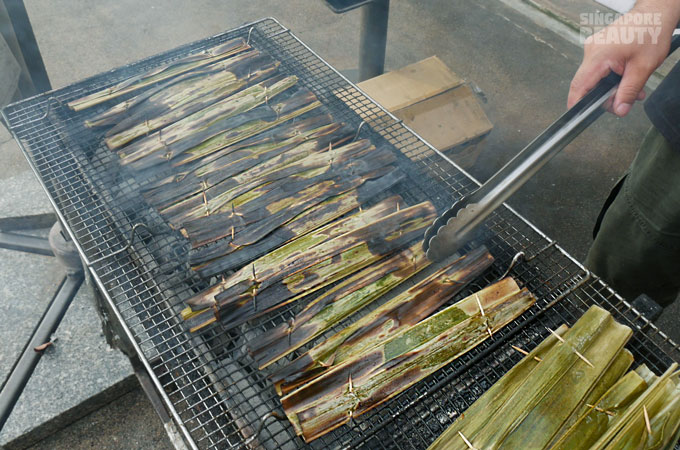 The other live station to watch out for serves barbequed shellfish with garlic butter and some local delights like otah otah, Mala squid bites and satay.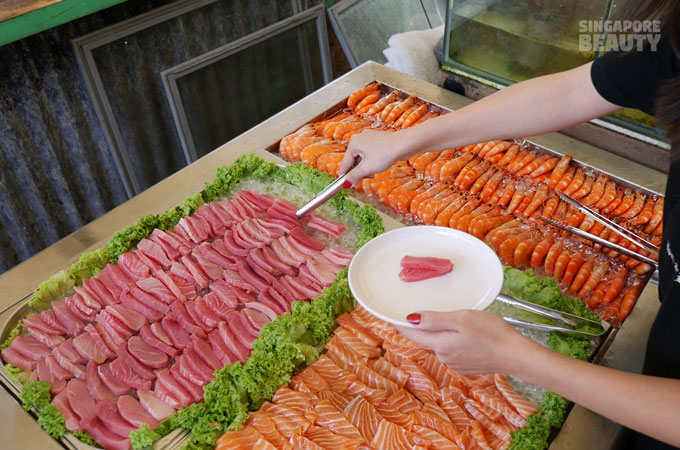 The Three Peacocks is also a place where you can have lots of free flow sashimi too! Tuna, salmon and vannamei.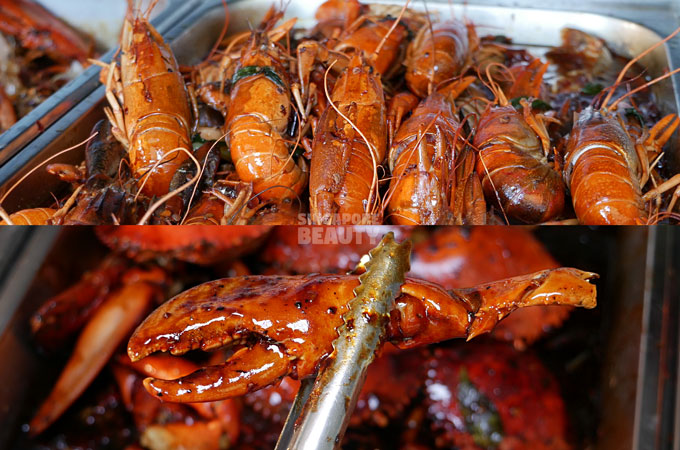 Look out for the weekend specials like Black pepper crabs and Mala crawfish at the cooked food section.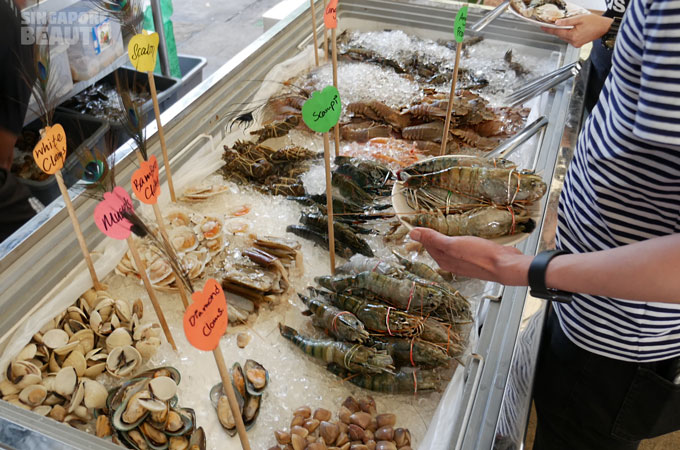 Barbeque at The Three Peacocks with their spread of seafood on ice and 3 types of live seafood that you can choose from.
Catch as many tiger prawns as you can in the 2 metre long tank. You are advised to ice the live tiger prawns before bringing them back to your table.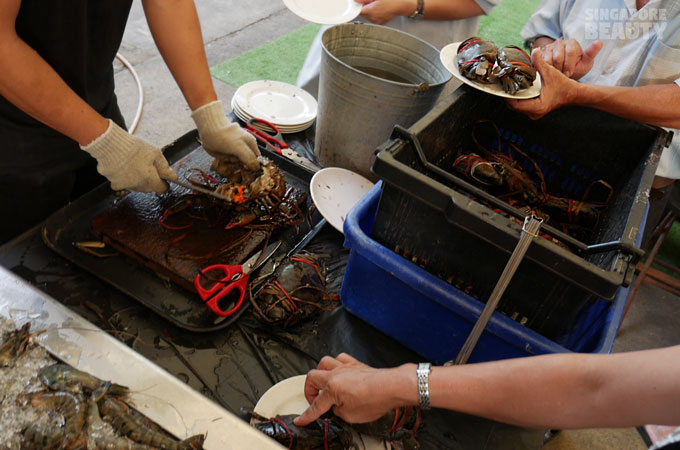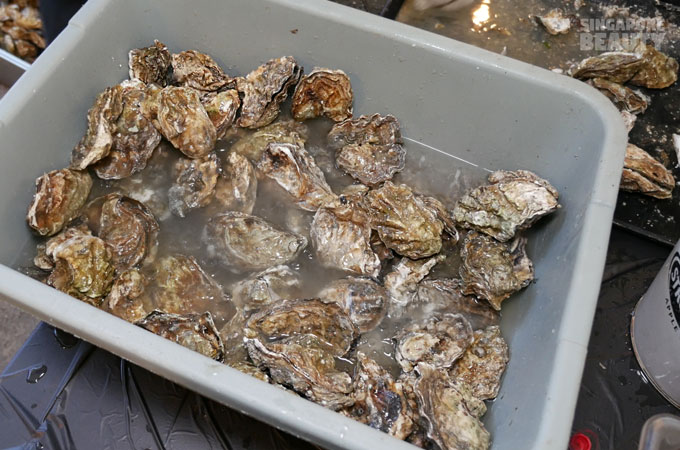 Live mud crabs and live oysters dispatched and shucked before your eyes at the service station.
Chill with unlimited ice cream and cut fruits. Free flow of crowd pleasers creamy ice cream pop sticks in many flavours!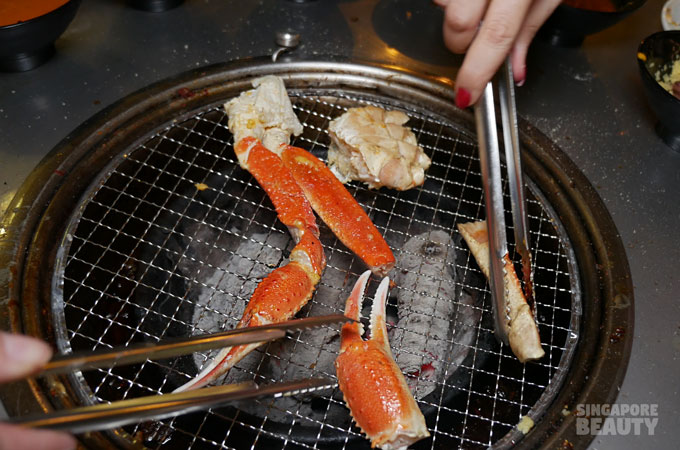 Ask for the special promotion regarding the snow crab legs. Limited sets for each table only and whilst stocks last.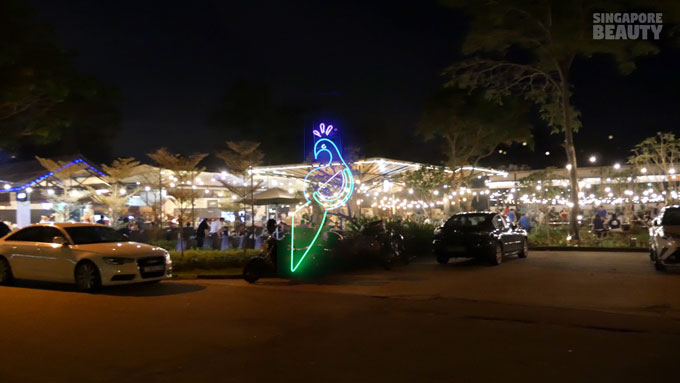 Time to chill and feast to your hearts delight at The Three Peacocks. Seafood, lobsters, Wagyu, sashimi and many more!
The Three Peacocks Adult buffet price
Mon-Sun $41+
Kids (7-12 years old) get 50% off the normal price!
Kids (6 and below) eats free!
Dine time
No time limit
Promo
Free 1 Hotpot for 6 pax ~
Additional Hotpot @ Only $11 Nett ! ~
(Mala Soup, Prawn Soup, Chicken Soup & Kimchi Soup Available)
Free 1 Tower of beer at your choice with 10 pax booking
(Paid in a single receipt) available daily
Buffet operating hours
Monday – Thursday: 5pm – 12am
Friday & Saturday: 5pm – 1am
Sunday: 5pm – 12am
The Three Peacocks Location
8 Port Rd, Singapore 117540
(Close proximity to Labrador Nature Reserve)
If you are driving, plenty of parking space available.
15 mins walk from Labrador MRT station (CC27)
Reservations
Whatsapp (+65) 98511802 for reservations/ call them at 62510213
Brought to you by The Three Peacocks.