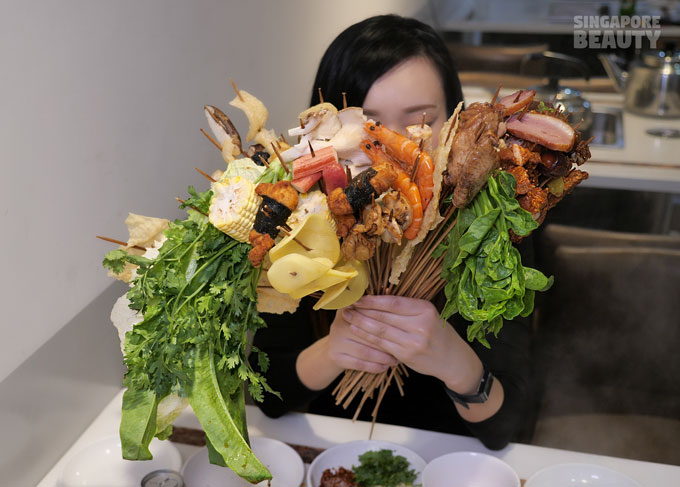 Craving for Mala lok lok with a good deal? Li Ji Chuan Chuan Xiang 李记串串香 at Jalan Besar is offering a promotion for hotpot skewers/ chuan chuan/ loklok at only $48.80+ for 120 sticks and free single/ duo soup base. 4 drinks and 4 condiments included at no extra charge. For 120 sticks of skewers, you are looking at about 40 cents per stick!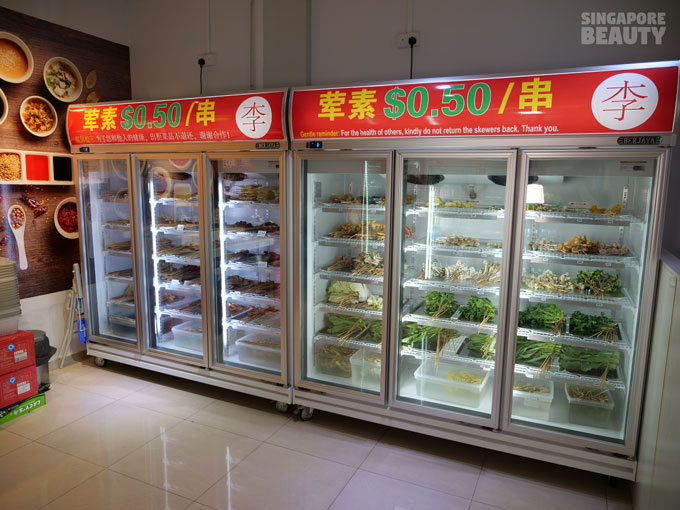 There are a total of 80 types of skewers to choose from. Hot dog, Chinese sausage, Japanese hotate, scallop muscles, pork intestines, pork stomach, sweet sour pork, seaweed chicken, fish maw, pork skin, Taiwan sausage, smoked duck, cherry tomato beef, pickled chilli beef, beef omasum, beef tripe, bacon enoki, soft bone ribs, pickled pork, braised phoenix feet, braised mid wings, braise beancurd, vannamei prawn, kelp, radish, fried beancurd skin, beef sticks, celery beef cubes, celery pork cubes, pork satay, chicken innards, braised chicken cubes, quail eggs, lotus roots, charcoal dough sticks, Chinese dough sticks, beancurd cubes, tau pok, cheese tofu, seafood tofu, crabsticks, fried yam cubes, oyster mushroom, shitake mushroom, cabbage, Beijing cabbage, Tang Oh, beancurd sticks, bean curd skin, potato, Shanghai greens, xiao bai cai, spinach, Shimeji brown mushroom, Japanese mushroom, king oyster mushroom, mushroom meat balls, pork balls, sotong balls, prawn balls, lobster balls, fish balls, sweet corn, okra, winter melon, pumpkin, broccoli, cauliflower, celery, parsley, kang kong, bamboo shoot, romaine lettuce and green caixin.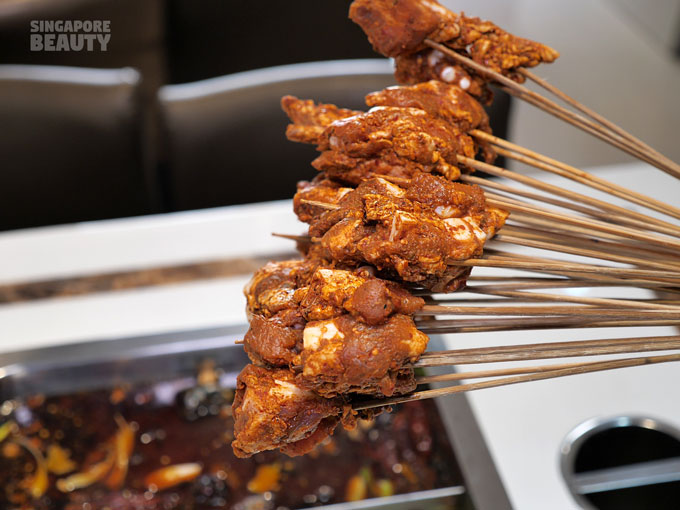 Marinated soft bone pork ribs – savoury pork ribs marinated with chilli and spices. Meat with soft bone is well marinated and has a bite to it.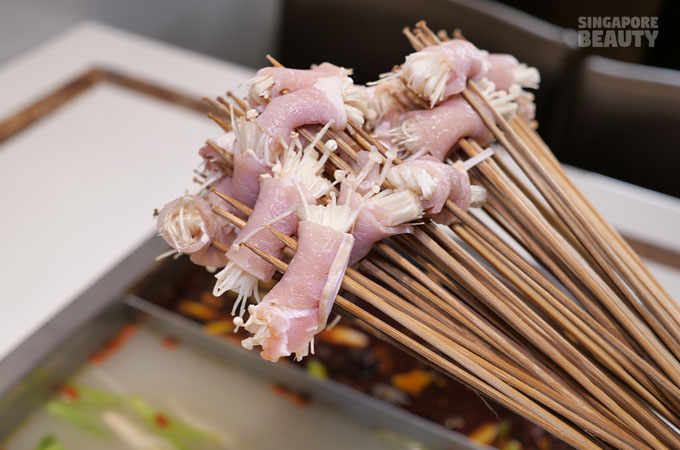 Lean pork with enoki – tender shabu pork slices with enoki. Has an umami flavour and tenderised texture.
Beef with pickled green bell chilli – intense flavours balanced by the pickled green bell chilli. Hot, tangy and savoury all at once. Must try for the kick!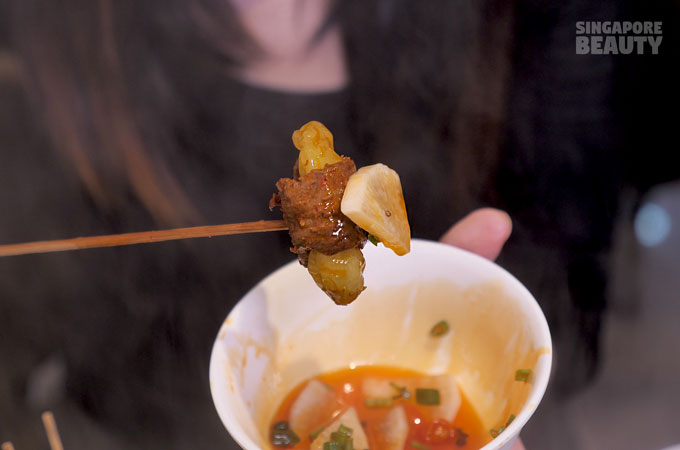 Up the tanginess with some pickled sweet radish and spicy chilli oil.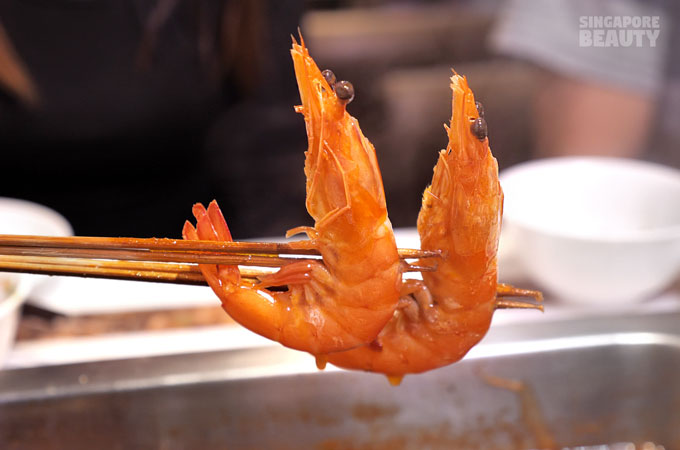 Vannamei prawns – sweet, crunchy and as fresh as it can get. These are one of the items you have to try when you are there. Enjoy lots of head butter too if you are shelving your diet plans for the day. These are considered 2 sticks for each prawn.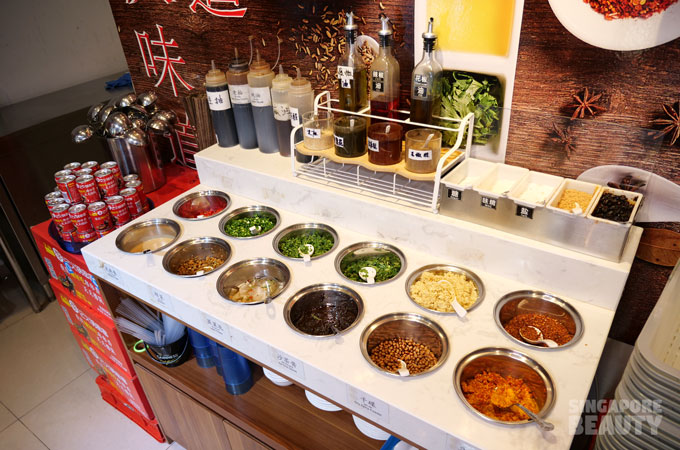 DIY your own condiments for the skewers.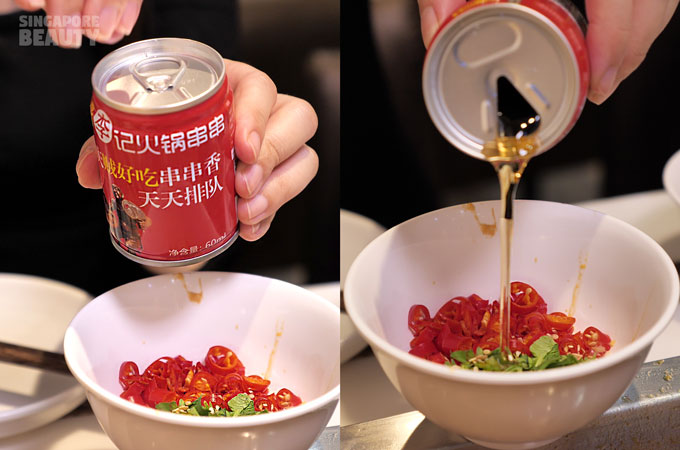 Extra pure sesame oil is included in the sauce. Feel free to make your own garlic chilli sesame oil dip.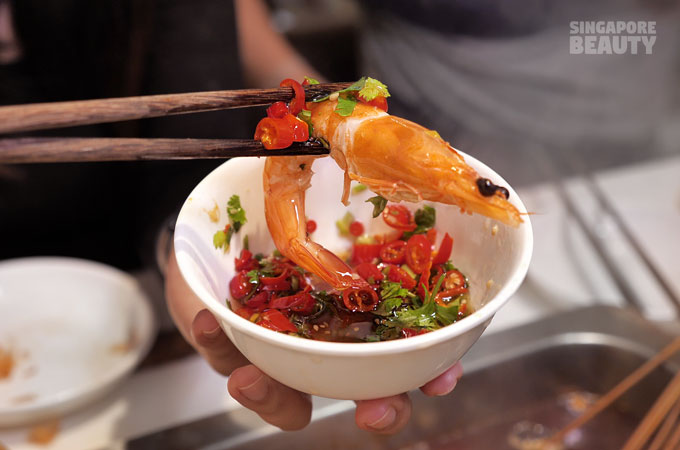 Enhance the sweet prawn with the in-house sesame oil, cut chilli padi and parsley. The best way to enjoy these prawns. These are good size prawns too and not shrimps!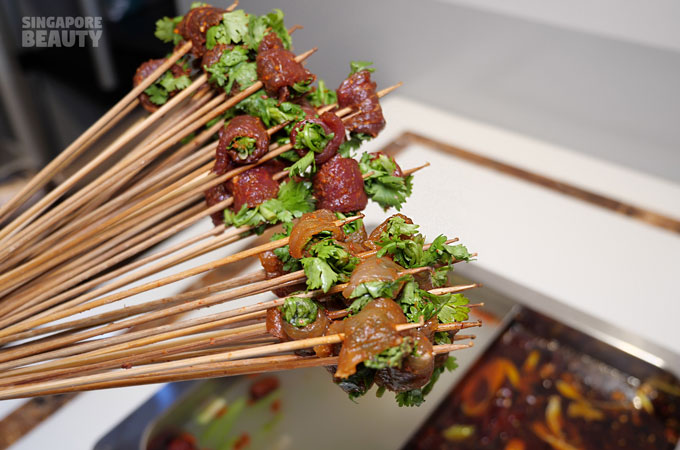 Chicken / beef with parsley – the flavourful marinated meat with the aroma of crushed parsley is delightful.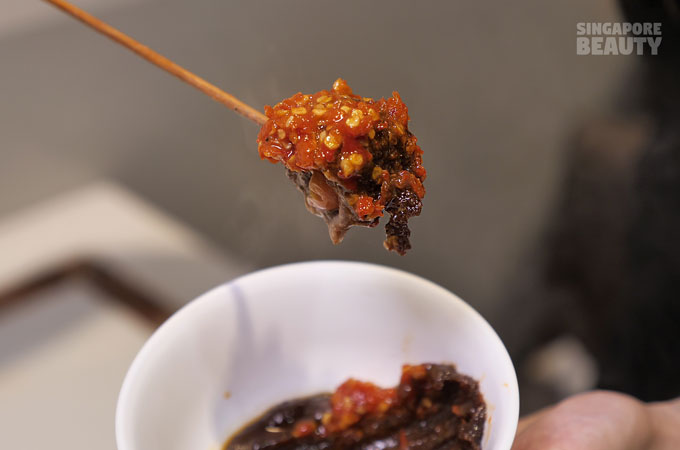 Add a nutty, beany and spicy dimension to the beef /chicken parsley skewer with the in house chilli sauce and bean paste.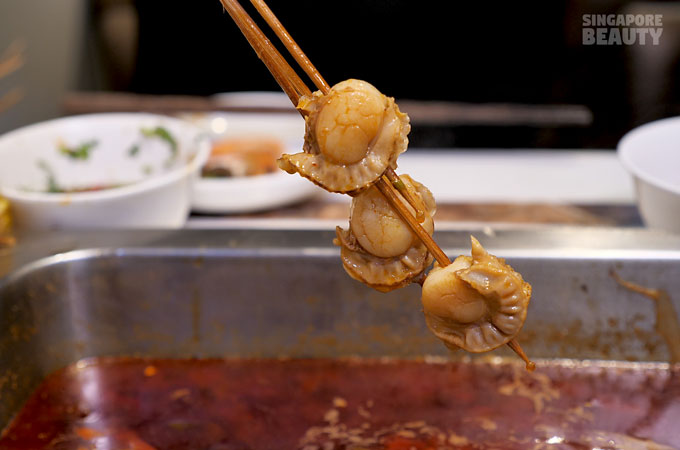 Japanese Hotate – love these scallops with the chewy fins. These are not marinated, you are free to cook them in Mala or the non spicy soup and eat them with some sweet soya sauce like in a conveyor belt sushi chain.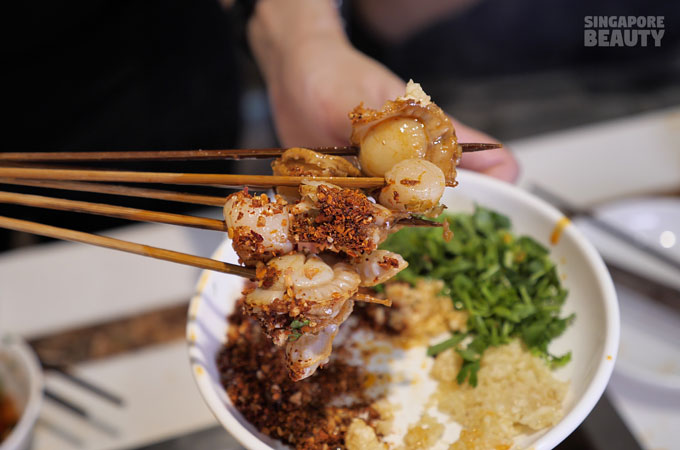 DIY your own mala dry chilli at their condiment station. Several types of dried chilli pepper and spices are grounded to create this dry chilli dip.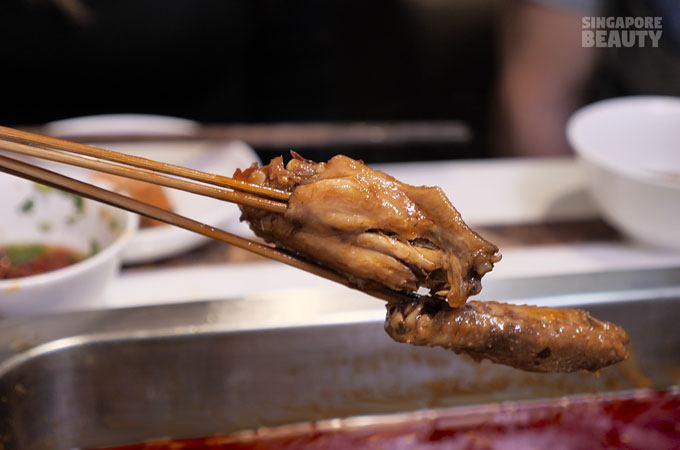 Braised mid wings – these are braised with five spices in dark soya sauce. Melt in your mouth skin with fall off the bones flesh. These are considered 2 sticks for each mid wing.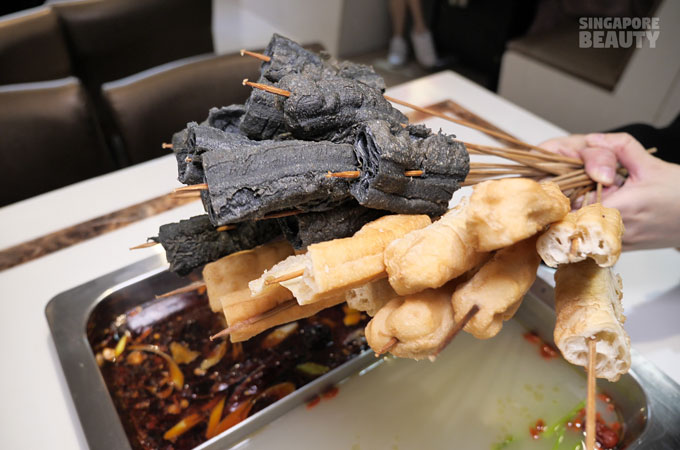 Unusual charcoal dough stick and Chinese dough stick to soak up the chicken soup or mala. The charcoal dough stick is available in limited quantity daily. It has a smoked flavour to it and is an acquired taste. Try it if you are feeling adventurous, or stick to the usual Chinese dough stick to be on the safe side.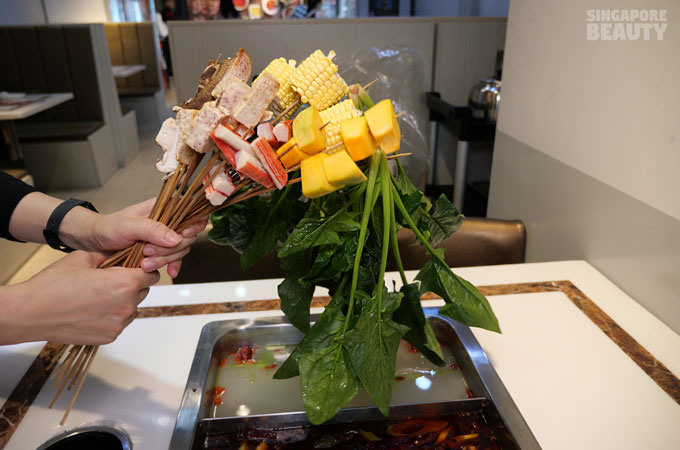 The portion for a stick of green is considered generous. Fresh crisp green like spinach, sweet corn cobs, fried yam cubes and shiitake mushroom are some of the hot favourite here.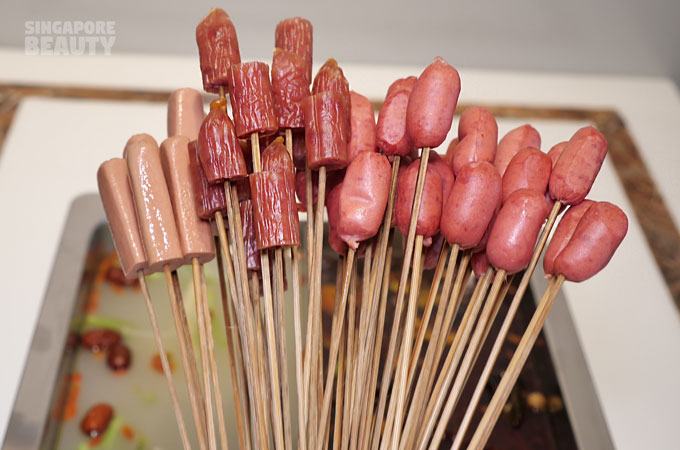 They also have all kinds of sausage here. Taiwan crunchy sausages, chicken franks hotdogs and the dense chewy Chinese lap cheong.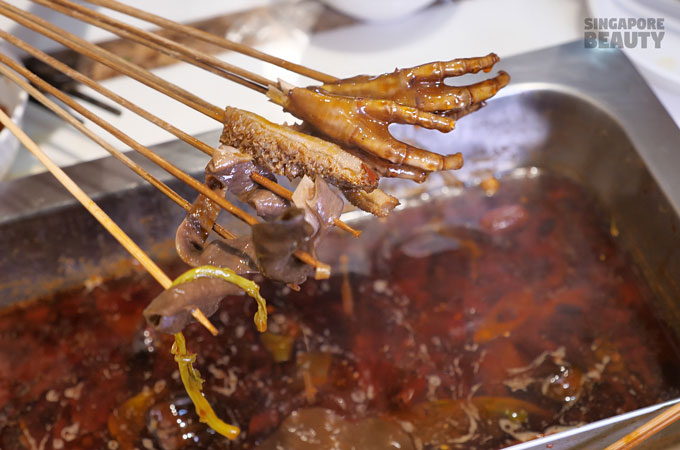 How about some exotic braised pork innards, braised intestines, pork stomach, beef tripes and some phoenix feets?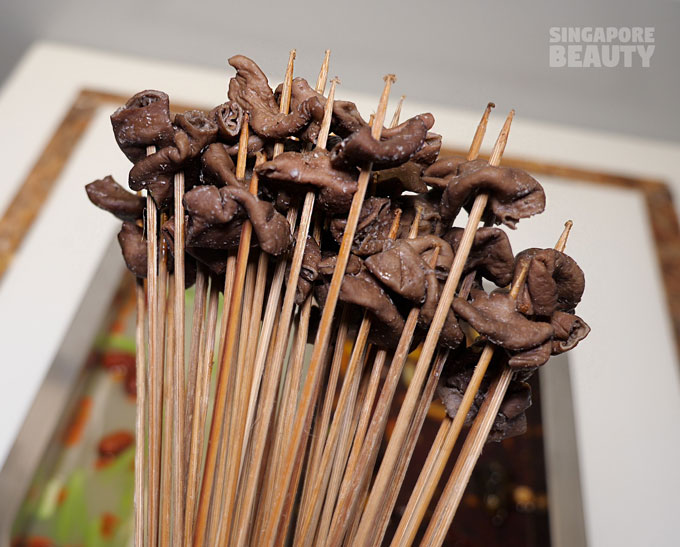 Pork intestines – cook these chocolatey innard bits for a longer time, so you get to enjoy the soft melt in mouth parts infused with the goodness of mala soup.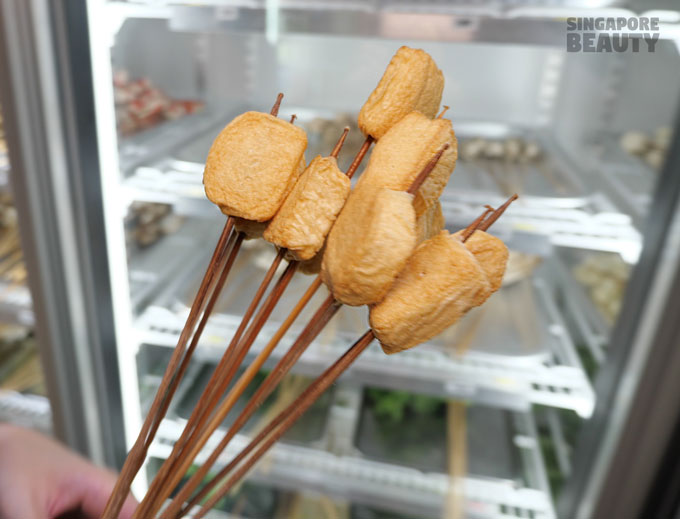 Oozing cheese tofu? Tofu with cheese centre sounds like a good idea in chicken soup.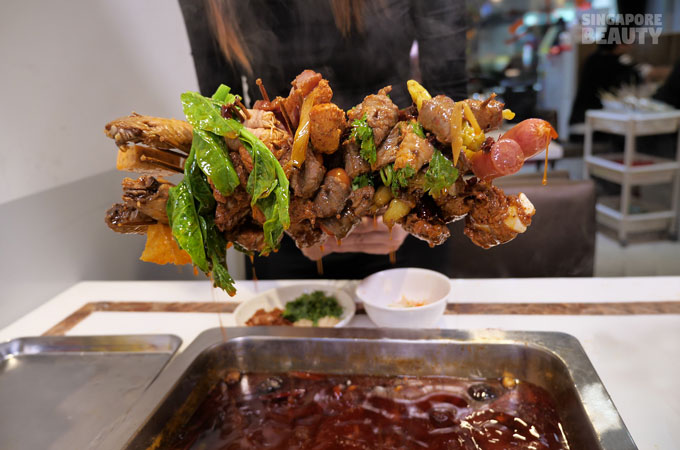 You can have a meat galore here. Pork, chicken, beef prepared with different marinade. The soup base is thick, immensely flavourful and fragrant too.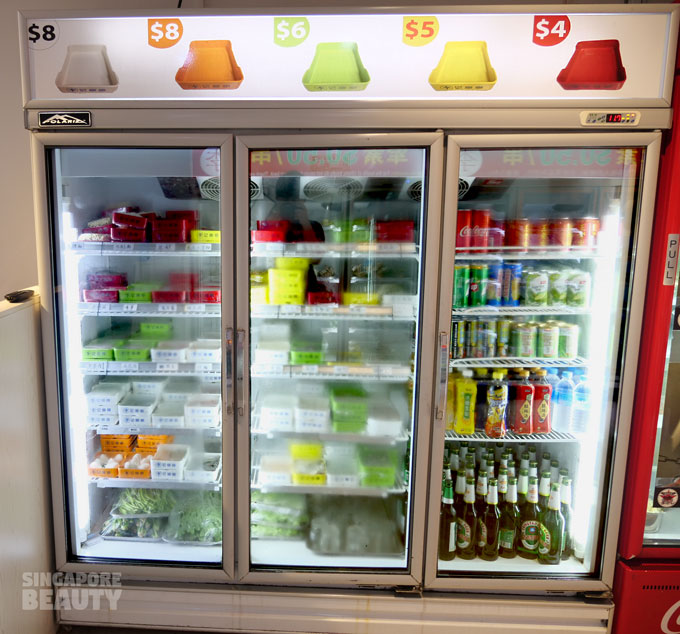 Besides skewers they also have sealed premium colour plates starting from $4+ to $8+. Quote SingaporeBeauty to get 20% off these plates.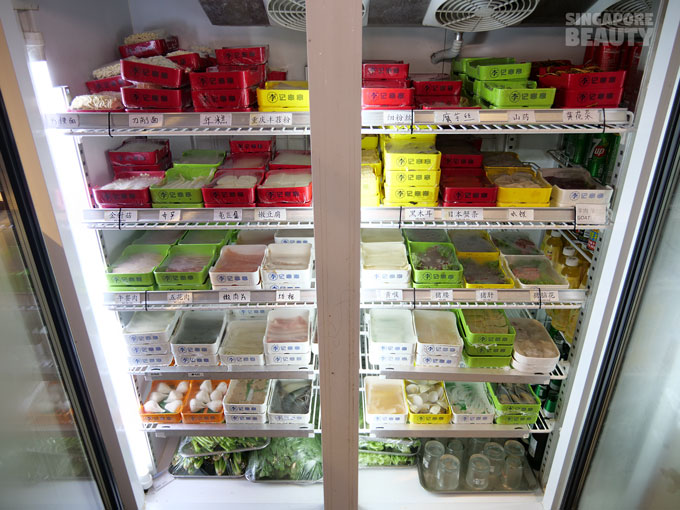 They have some exotic selections like pork brain, pork kidney, shabu shabu mutton, pork liver, homemade dumplings and handmade prawn paste.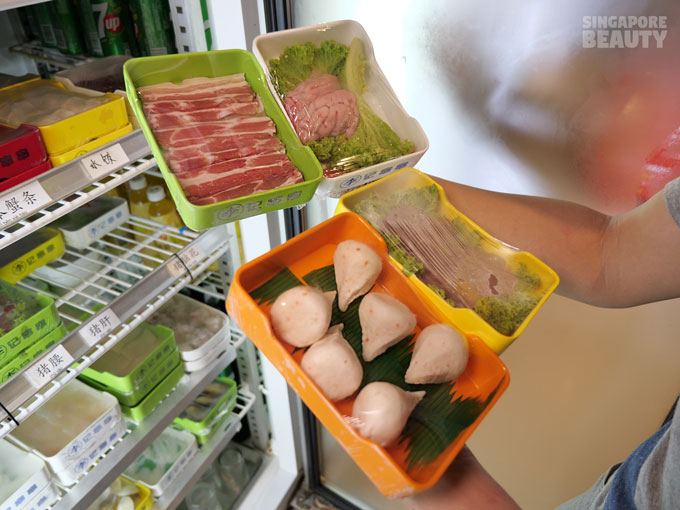 The pork brain and the shabu shabu meats are the hot favourite in this restaurant. In this premium section, they have handmade noodles, rice cake, potato noodle, enoki, bamboo shoot, iced tofu, silky tofu, bacon, chicken tenders, prok belly, luncheon meat, beef omasum, beef stomach, fish roe balls, scallops, tiger prawns, cuttlefish, mussels, venus clams, squid legs, squid rings, mock abalone, sliced fish, prawn paste balls, pork brain, pork kidney, black fungus, Japanese snow crab legs, dumplings, mutton and many more.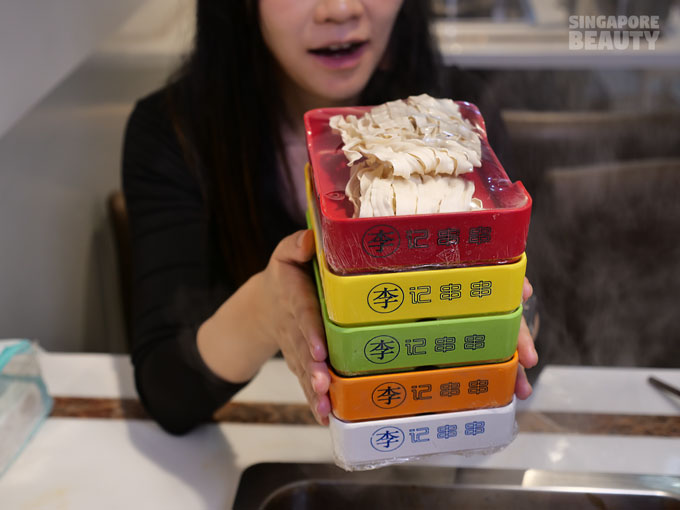 These plates are priced according to the colour. Red ($4) being the cheapest and orange/white are the more premium items. If you are craving for some handmade noodles, go for it. Quote Singaporebeauty and get 20% off all the coloured plates till end of April.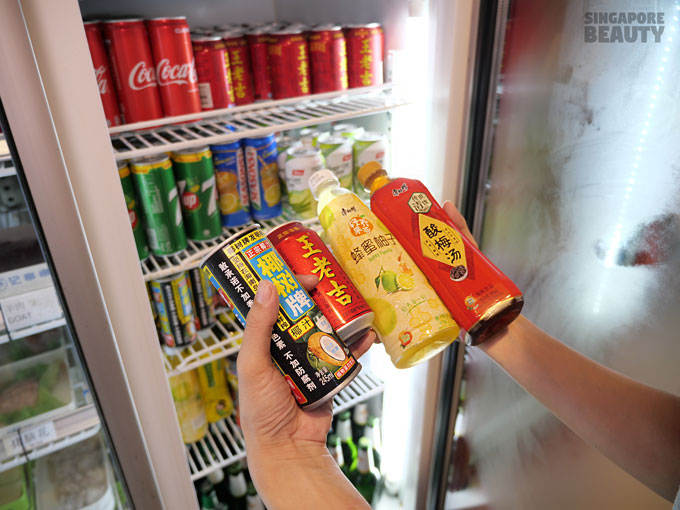 Promotion 1 – $48.80+ for 120 sticks (around 40cents per stick) regardless of meat/ green/seafood. Free single /duo soup. Soup is included, choice of 5 soup bases – signature mala, chicken soup, nourishing wild mushroom soup, sour pickled vegetable soup or tangy tomato soup. 4 sauces are included, free flow signature Li Ji can sesame oil. 4 bottle/ can tea or drinks included (exclude alcohol). Price excludes 10% service charge. These four drinks are our picks for the ultimate Chinese hotpot experience. Try them!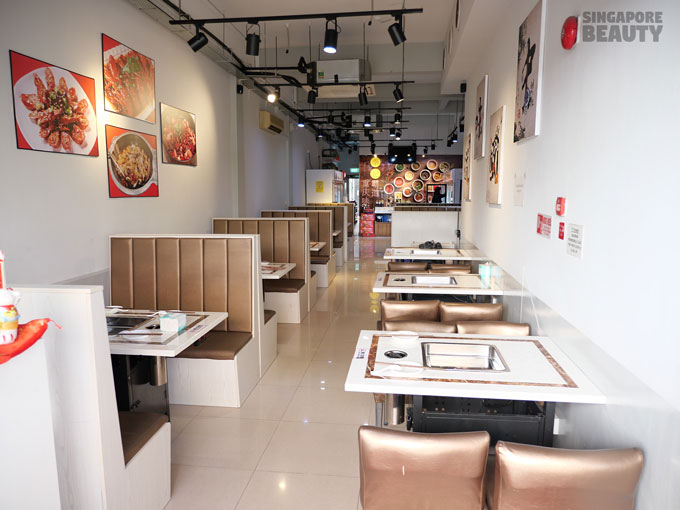 The promotion is for a limited time only. This restaurant is good for 4 pax or more. Air conditioned and neat interior with high and mid back settee cushion.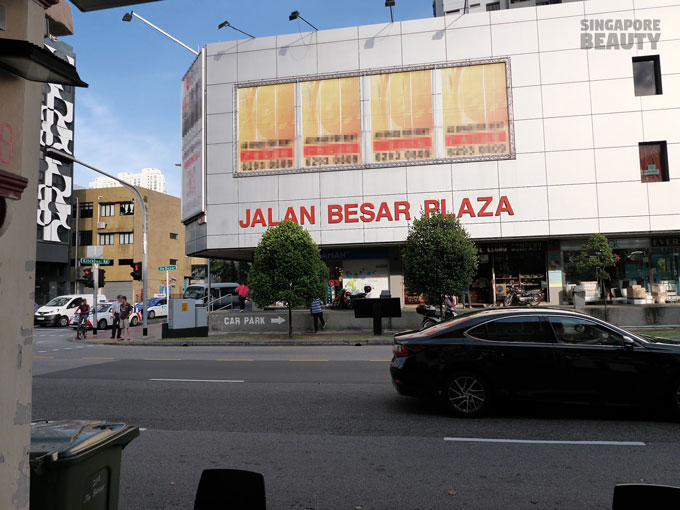 Plenty of parking spaces are available in Jalan Besar Plaza, just opposite Li Ji Chuan Chuan shop front. A short 3 minutes walk across the road will bring you to this cosy restaurant.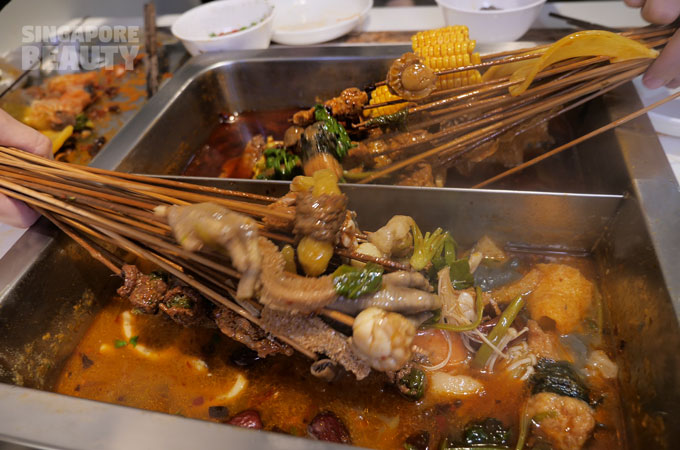 So much food are beckoning. Head over to Li Ji soon or make your reservation to secure a good seat.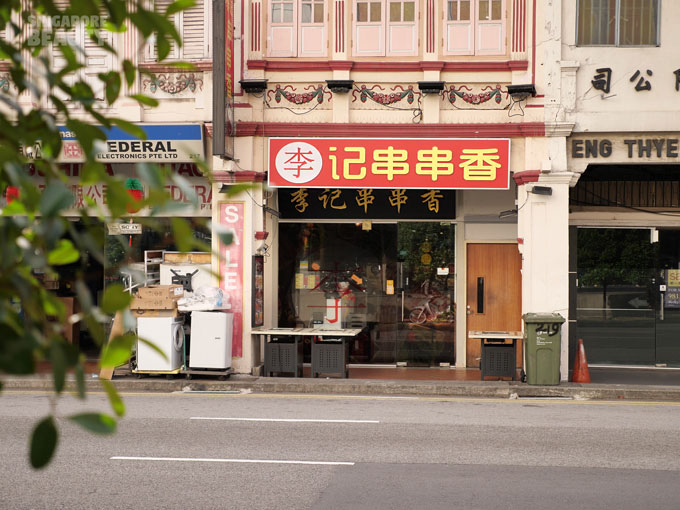 The external signboard is bright red and very prominent. It is hard to miss it from the main road along Jalan Besar Plaza. When you are inside the five footway, look for the dark Chinese calligraphy signboard engraved in gold finish.
Li Ji Chuan Chuan Xiang李记串串香- Jalan Besar
Promo 1 – Good for 4pax
48.80+ for 120 sticks (about 40cents per stick regardless of meat/ green/seafood)
Free single /duo soup. Choice of 5 soup bases – signature mala, chicken soup, nourishing wild mushroom soup, sour pickled vegetable soup or tangy tomato soup.
4 bottle/can tea or drinks included (exclude alcohol)
4 sauces are included, free flow Li Ji can sesame oil.
Promo 2
20% off all coloured plates all days included PH and weekends (quote SingaporeBeauty) starts from 15 April till the 31st of May 2019 For dine in only .
(For ala-carte skewers)
Usual price- 50 cents+ per sticks regardless of meat/ green/seafood
$10 for soup base
Drinks starts from $2 per can.
Sauce is $2 per pax.
Price is subjected to 10% service charge. No GST.
Operating hours
Monday – Friday : 5pm till 11:59pm
Saturday-Sunday & PH : 11am till 11:59pm
Location
219 Jalan Besar, Singapore 208900
Opposite Jalan Besar Plaza.
For those driving: please park at Jalan Besar plaza.
Reservations
Call them at (+65) 6291 5188
Brought to you by Li Ji Chuan Chuan Xiang