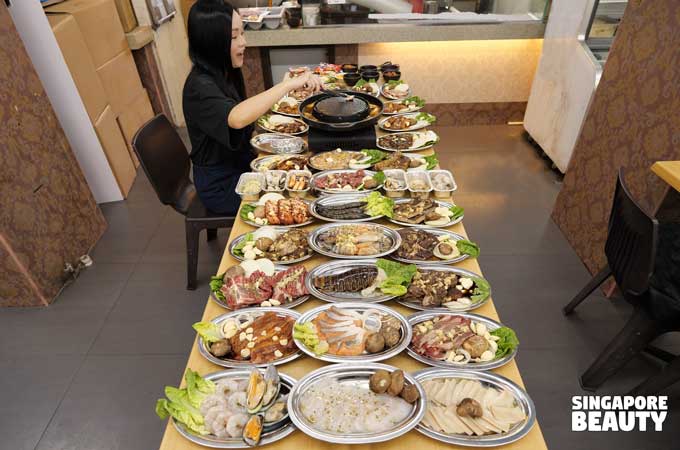 KPLATE by The Three Peacocks is having an ala carte Korean mookata with marinated chicken, carbs and greens selections starting from SGD$1.90.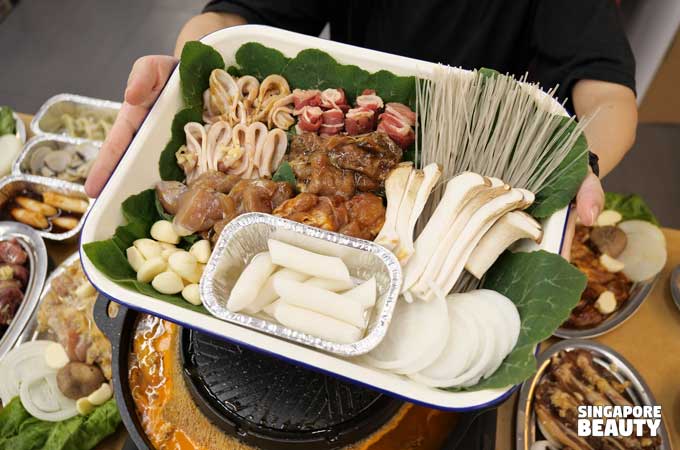 They also have meat or surf & Turf platters for 2-4 pax to share. The meat platter set A consists of Korean spicy chicken, honey soy garlic, bbq chicken, miso pork belly, black pepper belly and bacon. Together with the platter, you get to choose the K vegetable set A which consist of Korean glass noodle or ramen, rice cake/tteokbokki, lettuce, garlic, onion and king mushroom.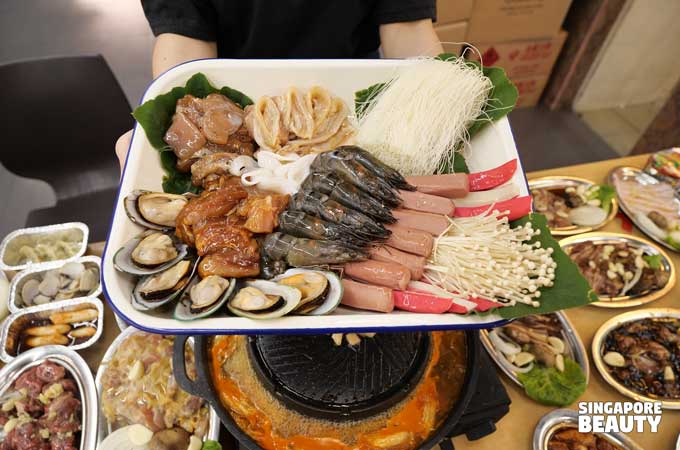 The surf and turf platter set B consist of Korean spicy chicken, honey soy garlic, black pepper pork, tiger prawns, squid and NZ green mussels. The basic vegetable set B consist of tang hoon or MAMA Maggie, chicken sausage, crabstick, kang kong, long cabbage and enoki mushroom. The platters are priced according to 2 pax portion for $26 or 4 pax portions at $39.90.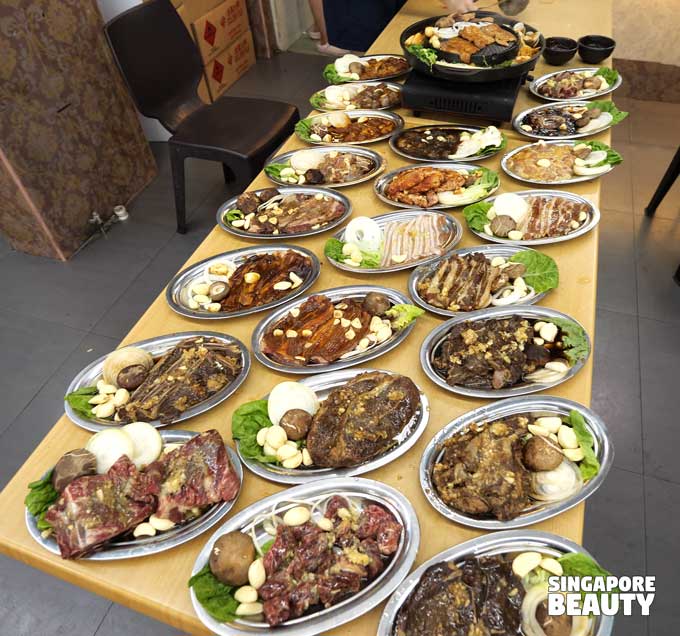 The rest of the 34 types of marinated meat selections are beef, chicken, pork and seafood.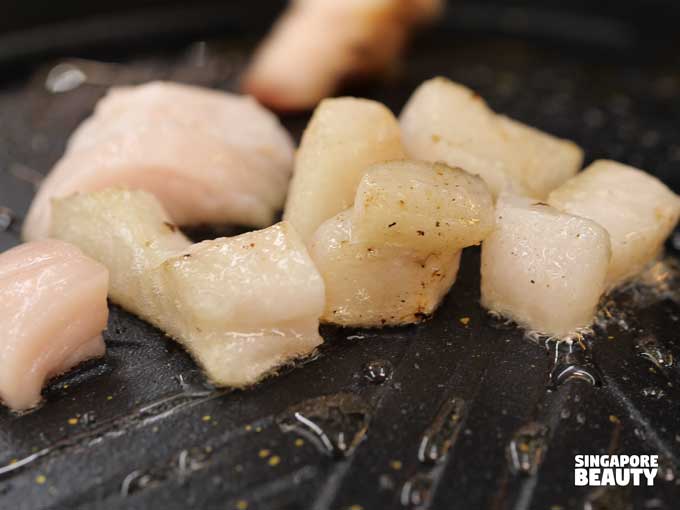 Let's start the Korean mookata by glazing the grill pan with fatty cubes of pork lard. These pork lard becomes golden nuggets of crispy on the outside and oozing with aromatic oil inside after a good grilling.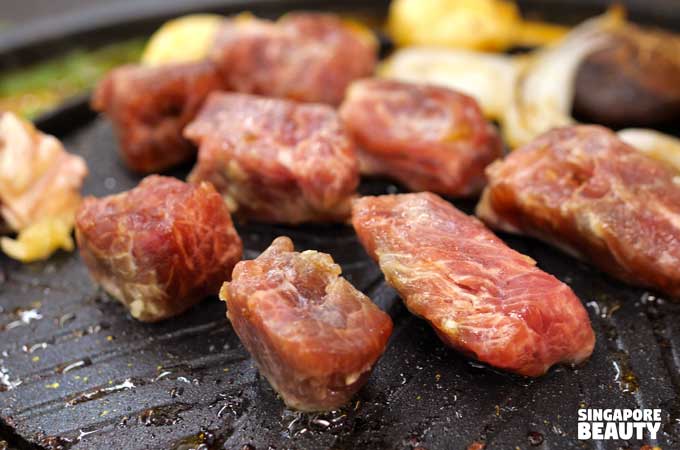 Enjoy some wagyu cubes on the hot pan. Grill these cubes lightly till golden brown on the outside but still tender inside. Wagyu cubes with a smoky flavour but still tender and juicy.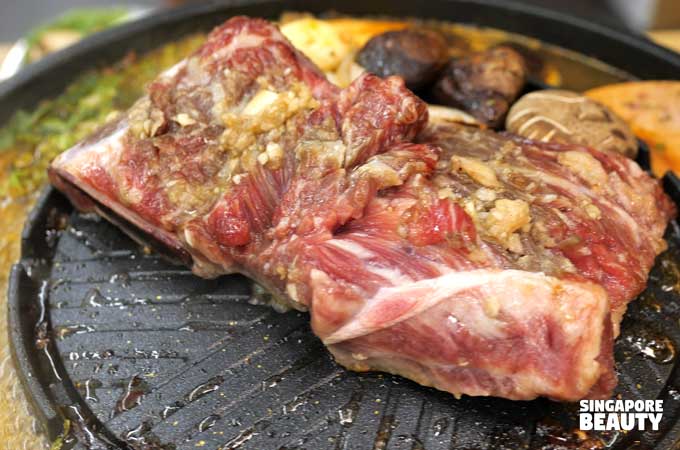 They also have occasional premium cuts of the beef such as big bone ribs (not in menu, subject to availability). These will take a longer time to grill. Grill these on both sides to sear in the flavours and juices. Proceed to cut them into long fingers of steak and seal lightly on grill to complete the cooking.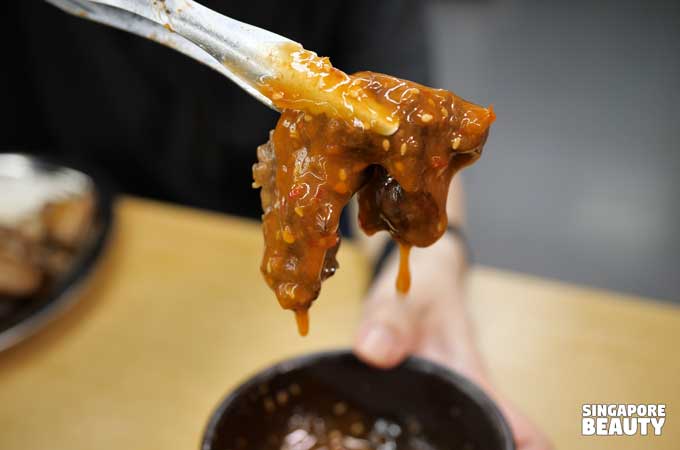 Dip these in the dipping sauce provided and march on.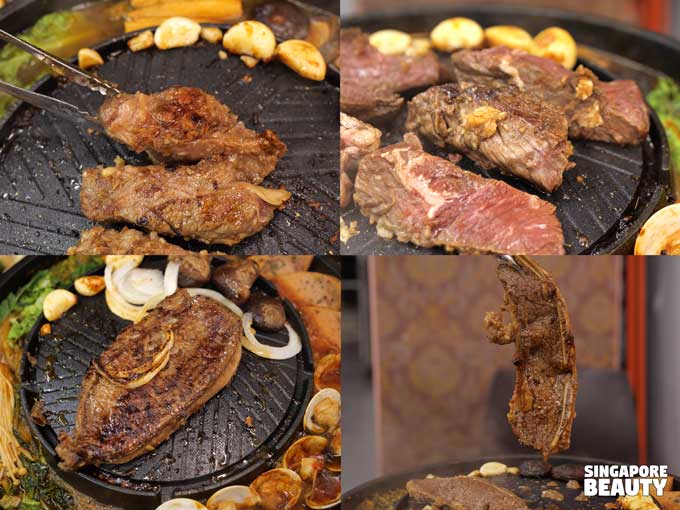 For beef lovers, they have up to 12 types of beef to choose from such as Korean spicy bulgogi, honey garlic, angus short plate, finger ribs, ribeye steak, bone in short ribs, beef skirt, Angus shortribs, galbi gui and wagyu. For those who are still finding their favourite parts of a cow, this is where you can try the different cuts of beef with prices starting from $3.90.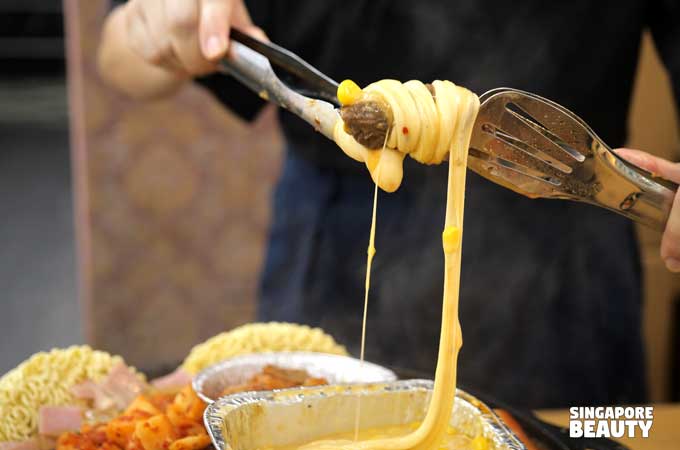 Enjoy the beef steak with some melty cheese corn on the grill. Get the cheese pull and wrap a luxurious amount of stretchy creamy cheese over the savoury steak. The cheese corn offers an interesting occasion bursts of sweet and saline corn kernel.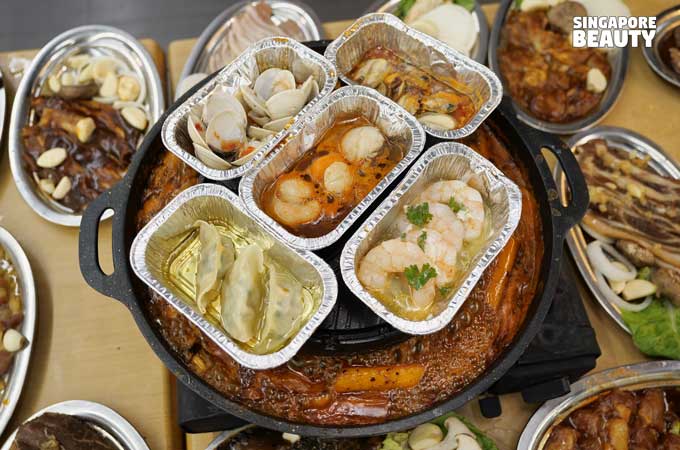 Get these special add-ons in mini hot pan trays to grill on the pan in their own savoury juices. Scallops with sweet spicy sauce, full squid in lime garlic, mussels in spicy sauce, clams, white fish in spicy sauce, oyster with cheese, prawns in garlic lime, butter cheese sweet corn and triple cheese dip. Watch these bubble in these mini cook tray and enjoy a party of many mix and match flavours all at one go.
The pungent tangy garlic lime succulent prawns with cheese loaded oysters.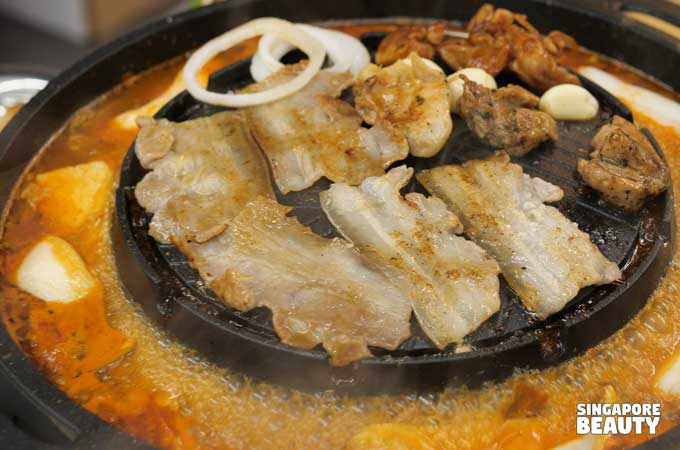 For Korean mookata, pork is a must have item. 8 type of pork – Korean spicy pork belly, honey soy garlic, black pepper, bbq pork belly, miso, bacon and original.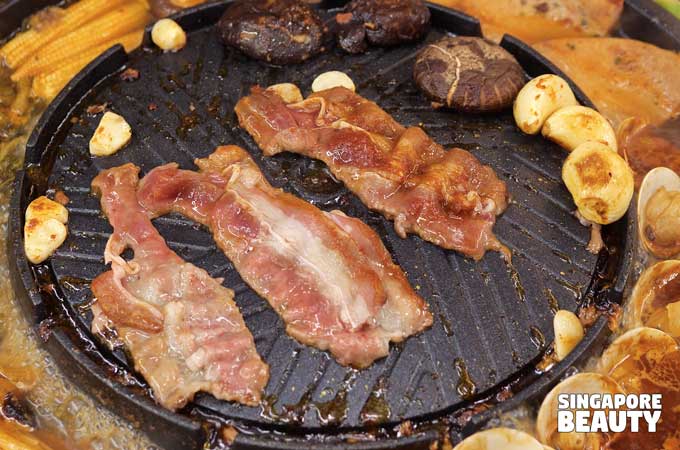 Crispy bacon on the hot grill curling up to wonderful ribbon of crunchy savoury bites.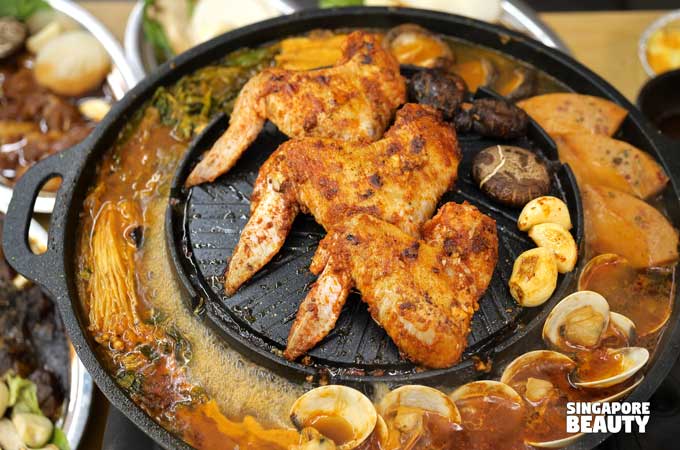 Well marinated chicken wings with a lightly crisp autumn skin and juicy inside after grilling. Grill these well till the juices runs clear when you poke them with a chopstick.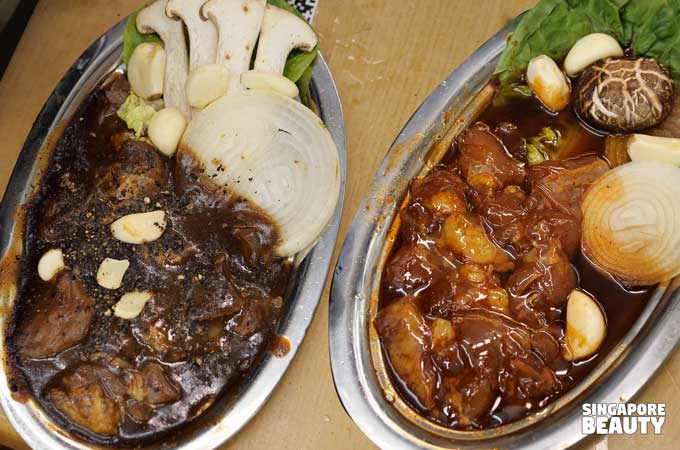 8 type of marinated chicken – Korean spicy, honey soy, black pepper, bbq, teriyaki, bulgogi, miso and marinated with special recipe.
Seafood lovers are not forgotten. 10 types of seafood – lobster tail, large prawns with cheese, tiger prawns, sliced salmon, squid, white clams, dory fish, mock abalone slices, mussels and sweet prawns.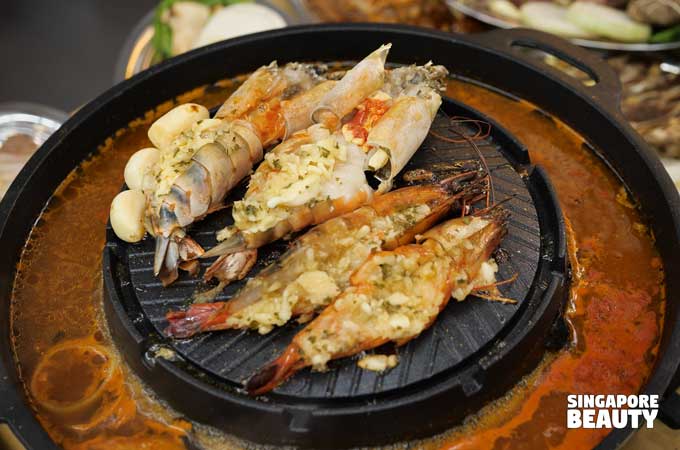 Grill these cheese prawns and enjoy some buttery head roe with the garlicky melty cheesed meat.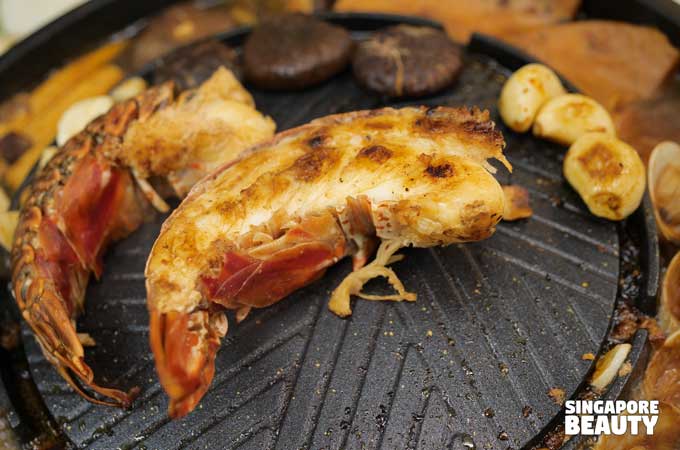 Go for the rock lobster tail if you are craving for large morsel of prawn meat. Grill these with some salted butter and pepper. Enjoy the natural sweetness of these sea crustacean.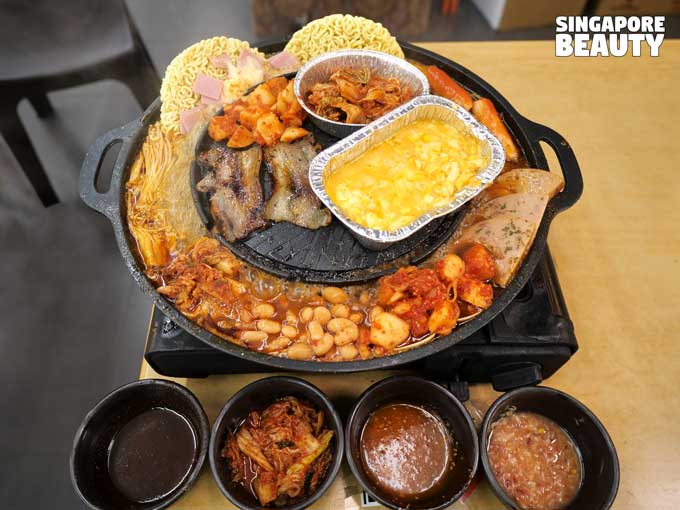 Enjoy a warm and comforting pot of kimchi stew with their kimchi combo. Add on ramen, pickled radish, bacon, corn cheese, enoki, kimchi, baked beans, luncheon meat, tteokbokki, ham and cheese for the complete experience.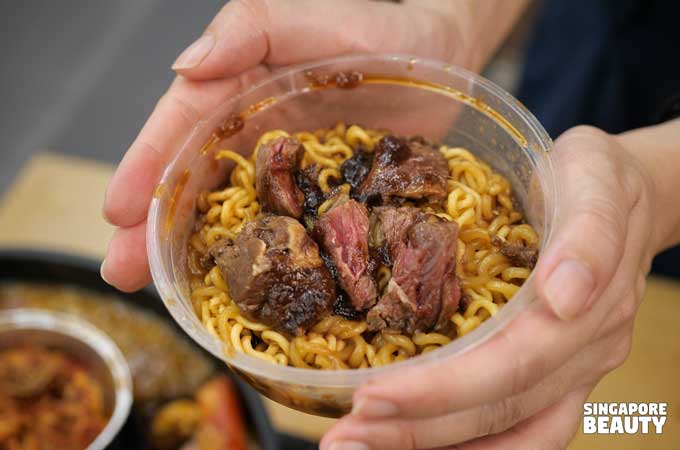 Use your creativity and DIY your own jjapaguri or parasite noodle. Here's our version of it.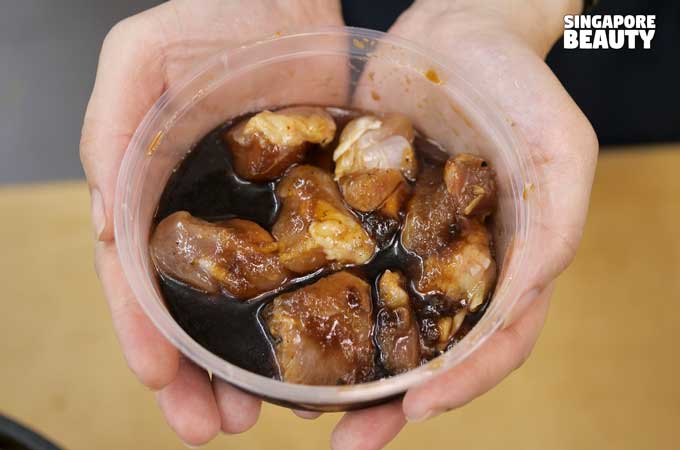 This is the chicken portion for $1.90. Great if you are after a myriad of dishes to share among a small group of friends.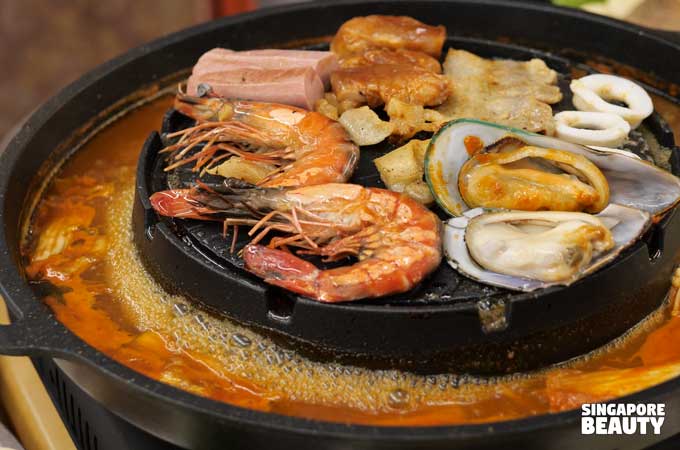 See you there.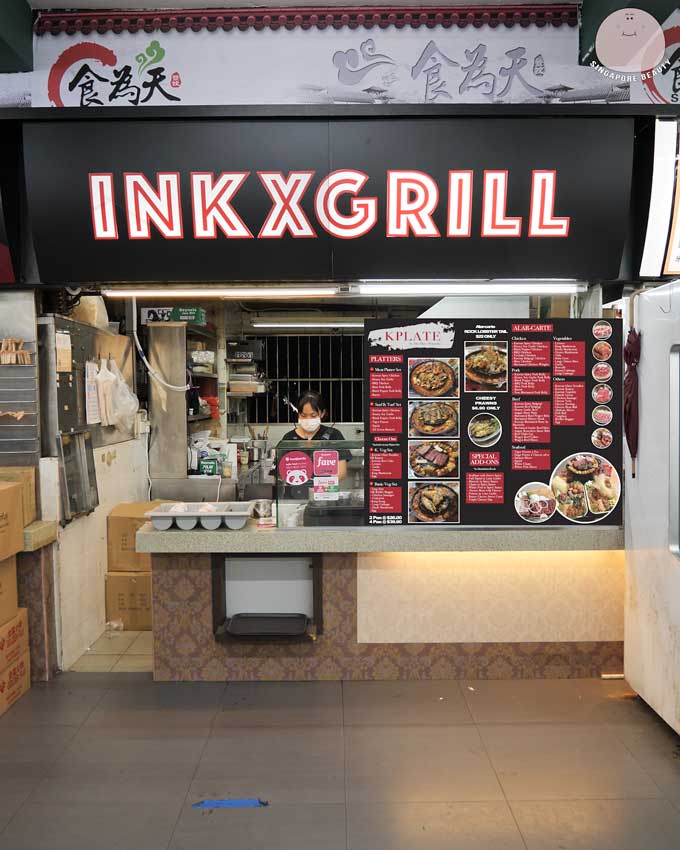 KPLATE is located in ShiWeiTian coffeshop next to Bedok interchange.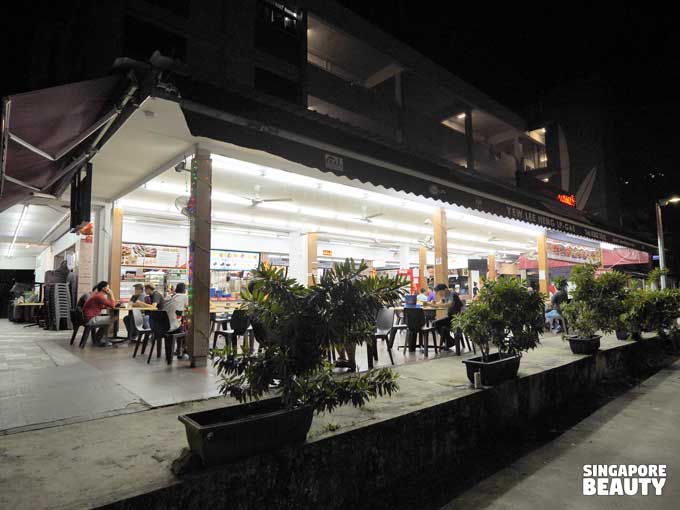 They have an extended covered outdoor area next to the coffeeshop for those who need to catch a puff or enjoy the cool night breeze. This place will be ideal. See you there.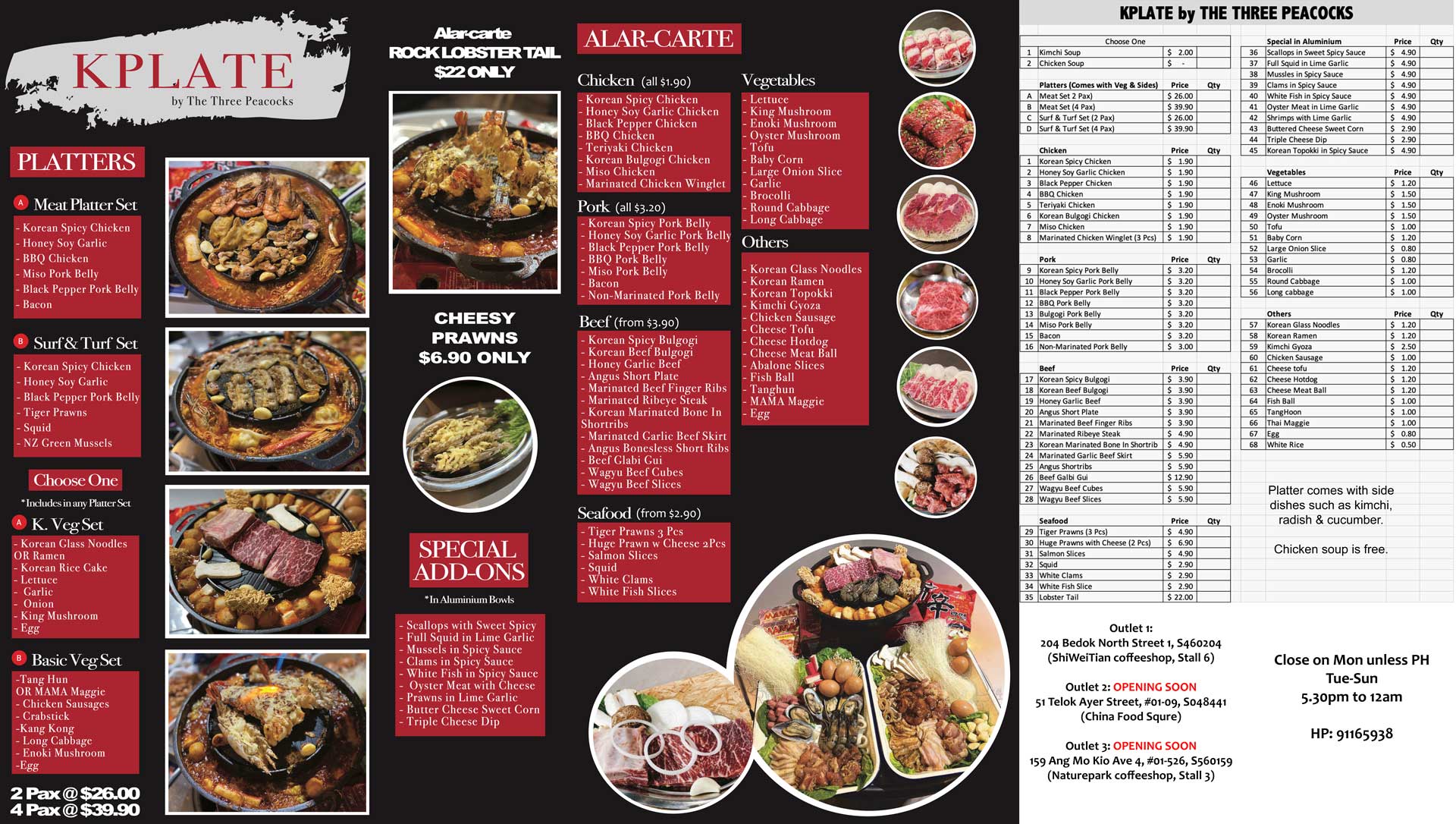 Location:
Outlet 1:
204 Bedok North Street 1, S460204 (ShiWeiTian coffeeshop, Stall 6)
Outlet 2: OPENING SOON
51 Telok Ayer Street, #01-09, S048441 (China Food Squre)
Outlet 3: OPENING SOON
159 Ang Mo Kio Ave 4, #01-526, S560159 (Naturepark coffeeshop, Stall 3)
Close on Mon unless PH
Tue-Sun 5.30pm to 12am
HP: 91165938