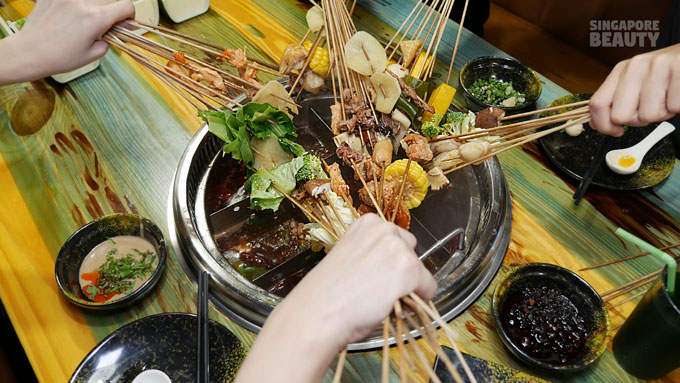 Jiu gong ge hotpot (九宫格火锅) fifty cents (50 cents) Mala Lok Lok(麻辣串串香)steamboat gives you a run for your money. This is something you should try at least once in a life time.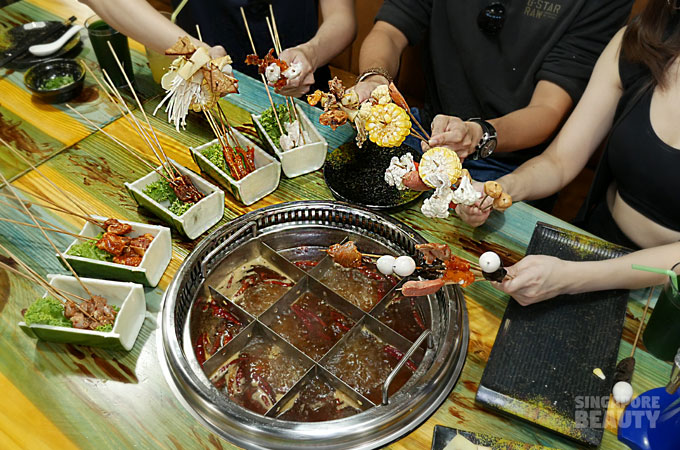 Lok lok in dialect means food on skewers or "happy happy" skewers. With over 30 variety of your favourite food to choose from.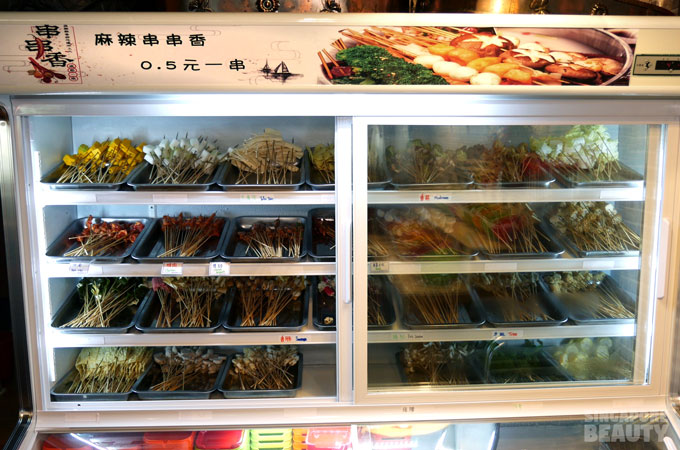 Fish dumplings, sweet corn cob, satay beef, squid ball, braised phoenix feet, pumpkin, winter melon, tofu skin with enoki, Russell potato slices, shiitake mushroom with broccoli, creamy quail egg with black fungus, pig stomach, mock crab sticks, braised pig intestines, braised soya tofu cubes , sweet white cabbage, soft bone pork ribs, marinated chicken thighs, chicken gizzard, beef tripe, Taiwan BBQ sausages, sea kelp and more.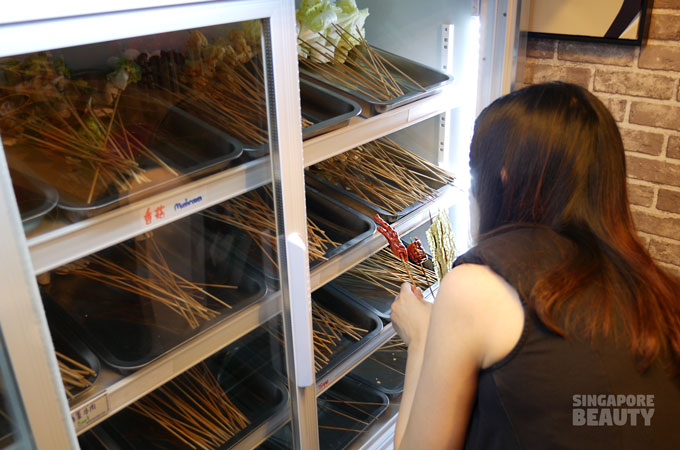 Take as many lok lok as you like from here. Each for 50 cents regardless of meat or vegetables.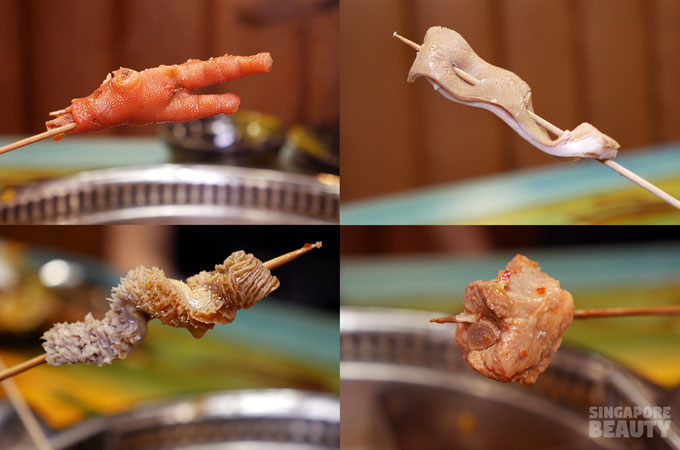 The braised intestines, satay chicken, braised phoenix feet, Her-Keow, soft bone pork ribs, pig stomach, beef tripe, sweet corn and tofu skin enoki are recommended.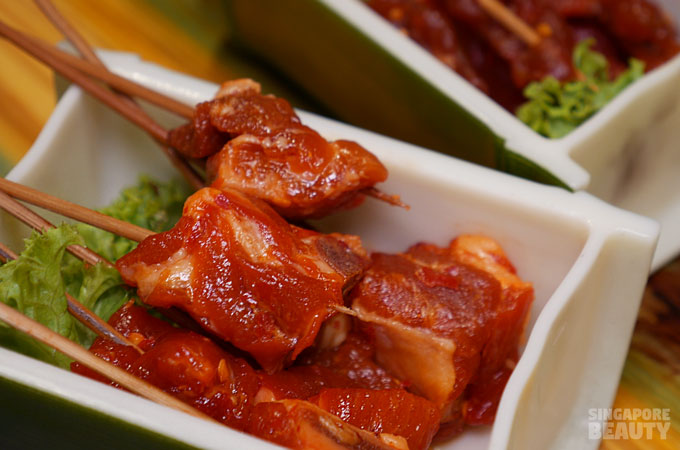 Marinated pork ribs are tender and tasty. The soft bone adds some crunch to the tender meat.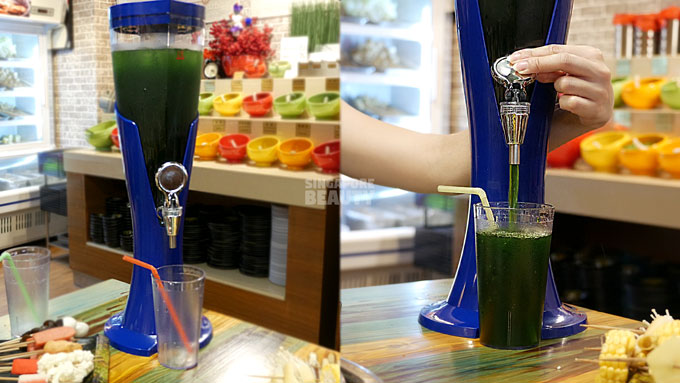 At Jiu gong ge hotpot (九宫格火锅), do try their drink tower that comes in 3litres. Great for sharing among friends. The choices available are sour plum, water chestnut and wheatgrass. Wheatgrass with its beneficial health properties and high chlorophyll content is highly recommended.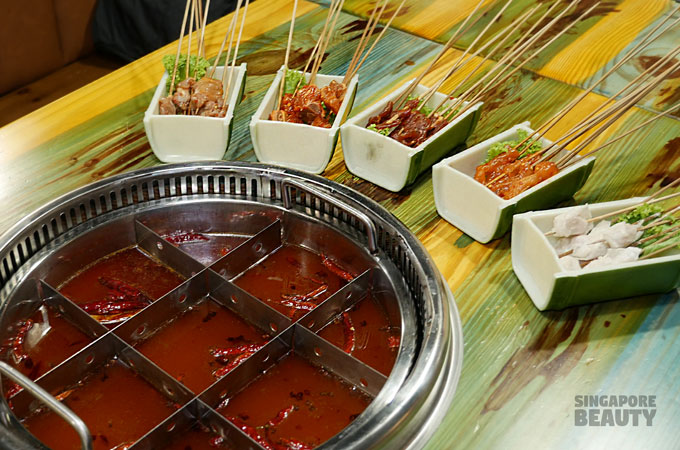 We recommend the Mala hotpot to give you the robust and flavourful broth. Excellent soup base to go with the lok lok.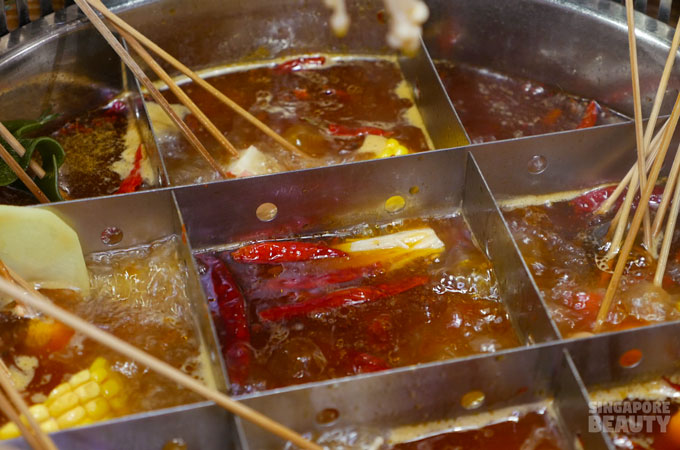 The Mala hotpot is layered and flavourful. Prepared with at least 10 spices, to give you the heat and the kick. This soup base enhances the already tasty lok lok. Bubbling hot broth with copious amount of red hot Sichuan pepper, spicy chilli, oil pepper corns and grounded spices in the broth, definitely not for the weak stomach. Other available soup bases are pickle soup, clear broth, tomato soup, chicken broth, big bone broth, and fungi soup to cater to kids and the elderly too!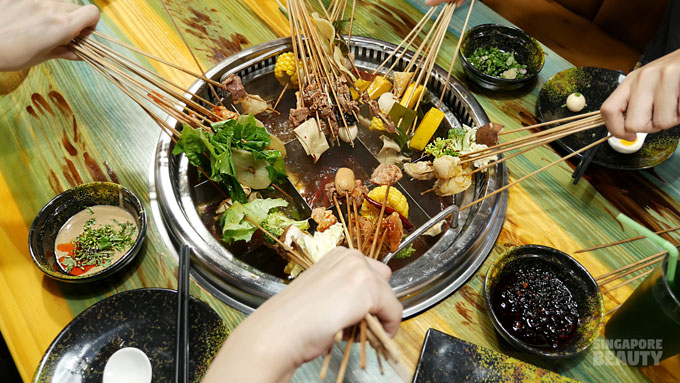 This is a large steamboat ($8) that has 9 individual slots for 2 pax and above. Now, we know why this place is call Jiu gong ge hotpot (九宫格火锅), literally nine slots in a hotpot! This is a great idea for those of us who have friends or family members on a vegan diet, you can cook the meat and veggie in separate slots.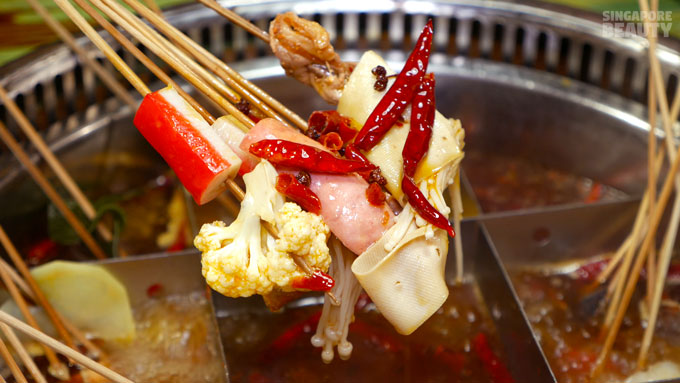 Look at the amount of chilli and pepper corn!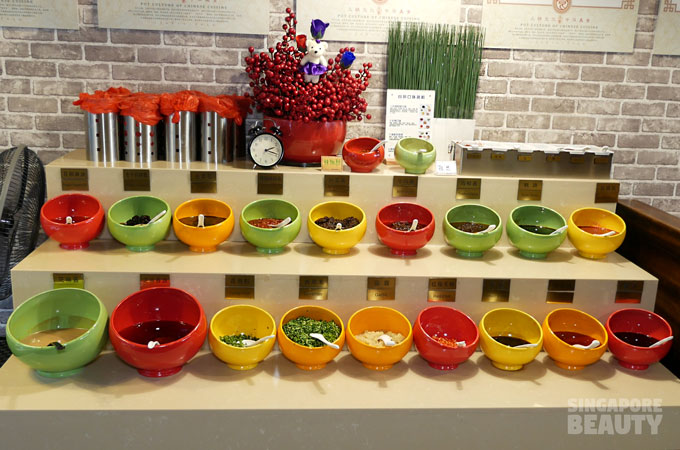 DIY condiments for the lok lok. Soya sauce, chilli oil, oyster sauce, pepper, sesame oil, black vinegar, chilli padi, chopped garlic, shacha sauce, fermented bean curd coriander, chilli sauce, diced garlic, chives, chopped spring onion, sesame oil, peanut sauce and more.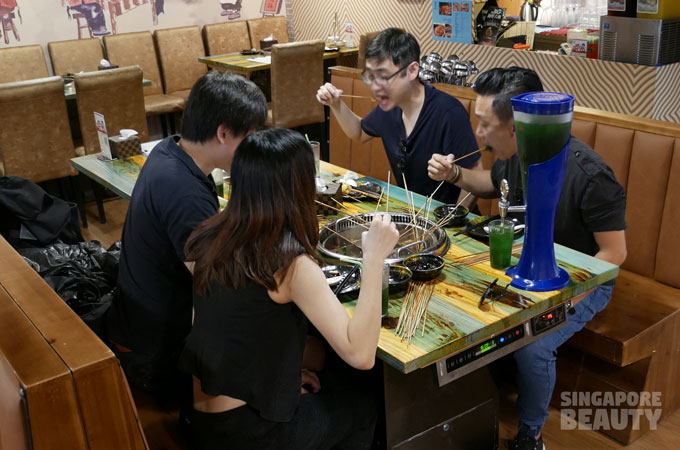 Jiu gong ge hotpot (九宫格火锅) has cushioned bench seating and is recommended for big group gatherings and cosy couple tables.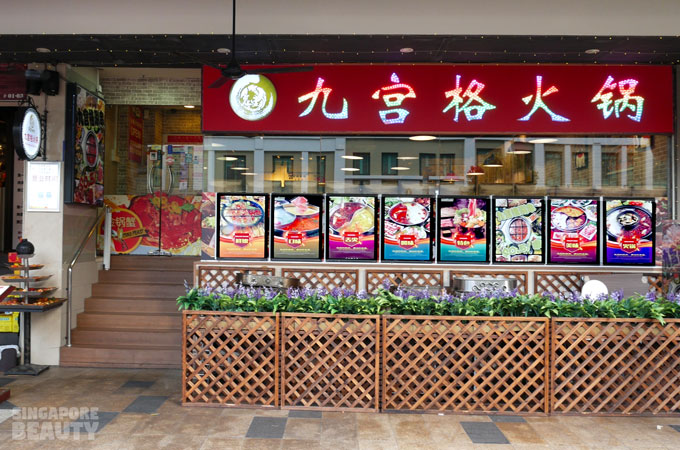 Make your reservations today to secure a table.
All day Lok Lok Steamboat
Steamboat with 1 soup base $8 (top up $1 for 2 additional soup base)
Location:
470 North Bridge Road #01-02/#01-03/#01-04 , Bugis Cube, S188735
Operating Hours:
Open 11.30 am to 2am Daily
Reservation:
63383405