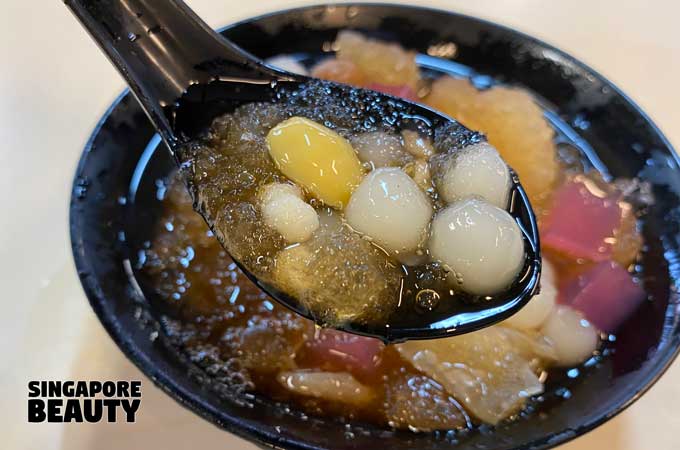 Soon Heng hot and cold desserts (顺兴清甜五味汤) sell hot and cold dessert starting from $1. If you are lunching at Tanglin Halt Food Centre, this is a must eat dessert after your mains. This is a pit-stop for all the cycling enthusiastic around the area too. This bowl of goodness is their most popular dessert – Cheng Teng (also known as Cheng Tng).
Shun Xin Qing tian wu wei tang hot and cold desserts sells up to 17 types $1 desserts and other Teochew dessert from $1.50. The $1 desserts are Cheng Teng, red bean soup, green bean, dao suan (tau suan), bo bo hitam, sweet wheat porridge, bo bo cha cha, ice kachang, chendol ice, red bean and corn ice, grass jelly nata de coco ice, longan lychee, almond longan, ice jelly cocktail, honeydew sago and gingko with beancurd barley.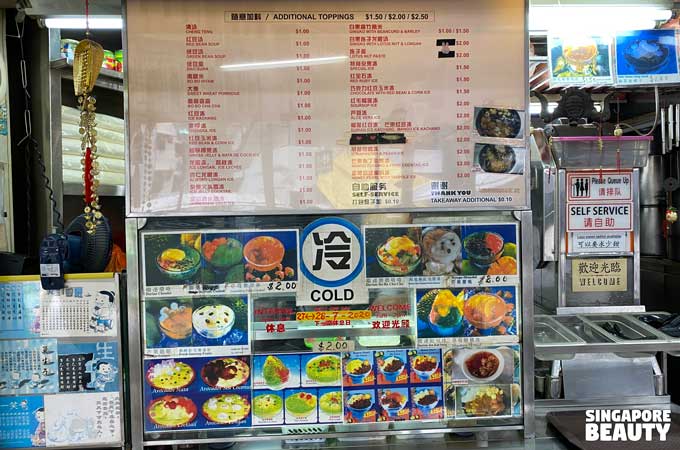 Here is the menu for Soon Heng Hot & Cold Desserts. They have a total of 28 types of hot and cold dessert and 2 off menu items that only the regulars knows. They are the special and double special dessert. For those heading over during lunch, the queue is usually long. Facing the stall, the left queue is for cold desserts, right is for hot desserts.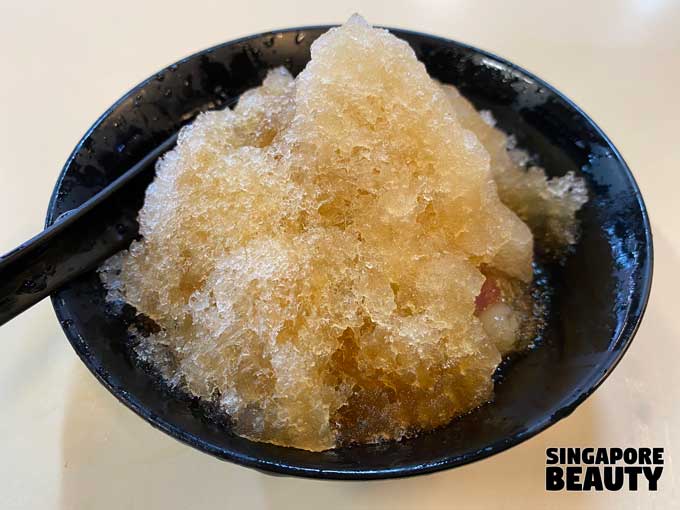 We order this $1 Cheng Teng. In this bowl of dessert, there are a variety of ingredients. Although it is only a dollar, the owner is not stingy on the ice and the type of ingredients. The ice is finely shaved and melts in your mouth like snow. A block of ice is freshly shaved into the bowl and shaped into an ice mountain. It is then drizzled with some sweet brown sugar syrup to give it an amber gradient.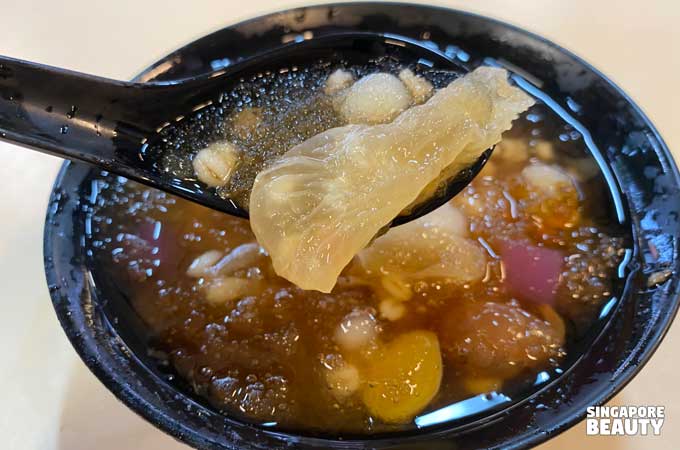 In this bowl of old school Cheng Teng, we found a good chunk of white fungus. The white fungus is the tender and gelatinous type. White fungus is known to have great health benefits such as anti-tumour, nourishing for lungs, detox and full of collagen. This is also known as the poor man's bird nest.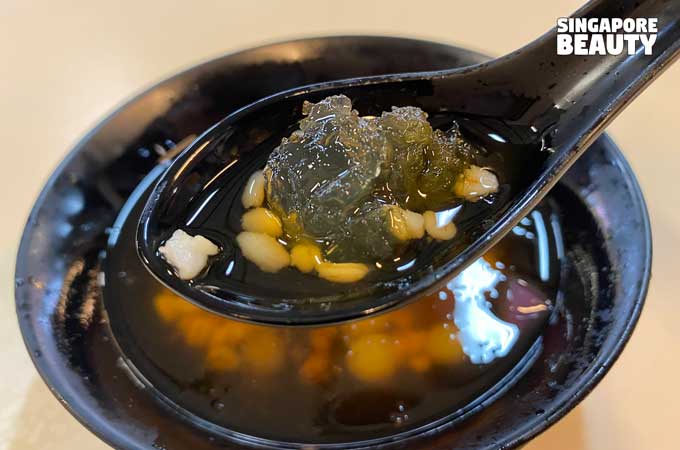 We also found this cluster of jello like ingredients in this $1 Cheng Tng. On closer inspection, this feels like some type of peach gum. Peach gums are also very rich in collagen with antioxidant and anti cancer properties.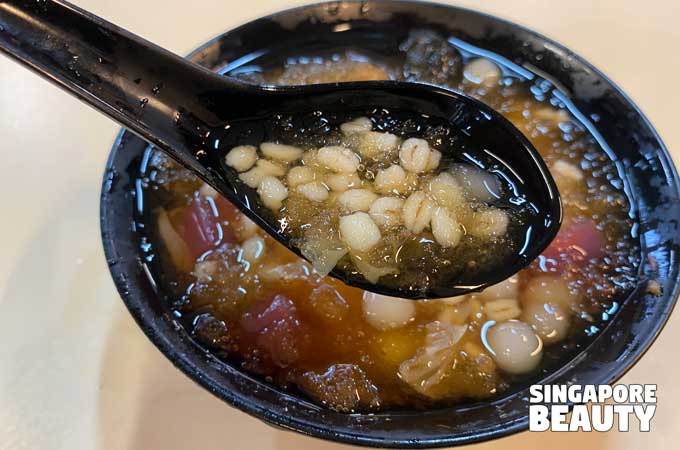 The barley is soft, chewy and has the texture of al dente pasta. The barley has lots of health benefits. It aids digestion, helps in weight loss, lower cholesterol and helps to prevent heart diseases.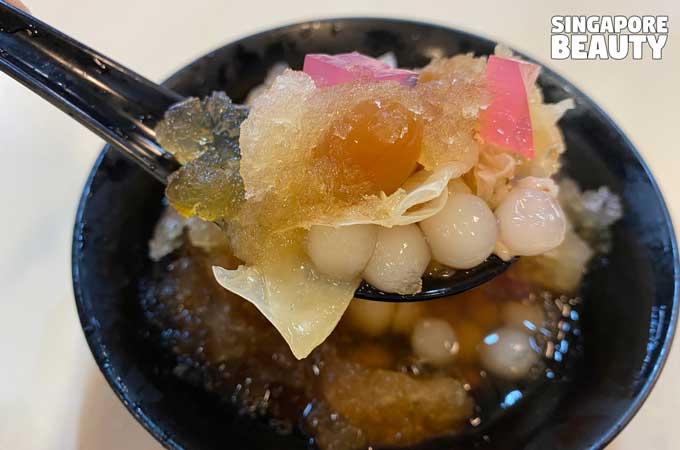 Rehydrated longans are used to give it a deep sweet flavour. Longan is used by many for Chinese cuisine such as soup stew as well as for desserts due to it naturally sweet properties. Longan have fibres which help to prevent constipation and regularise bowel movements. Longan also known as the "dragon eyes" are packed with nutrients. Chinese believed these longan promote better rest and relaxation of the mind.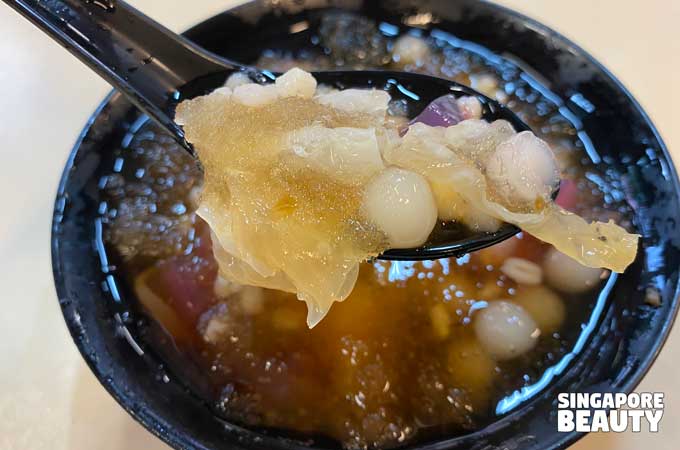 Sago pearls are delicate and soft. They add extra chew to the cold dessert and are kind of a filling as these are starch.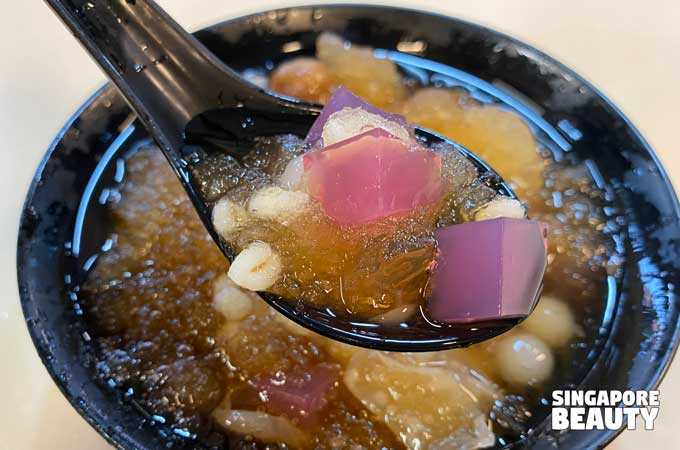 The pink gems are the agar agar. Firm cubes of old school jelly made with sugar and rose syrup. This agar agar is one of the ingredients that contributed to the old school feel of this Cheng Teng. This gives the cheng teng a nice crunch instead of the agar agar strip that may sometime be too crunchy and plasticky for our liking.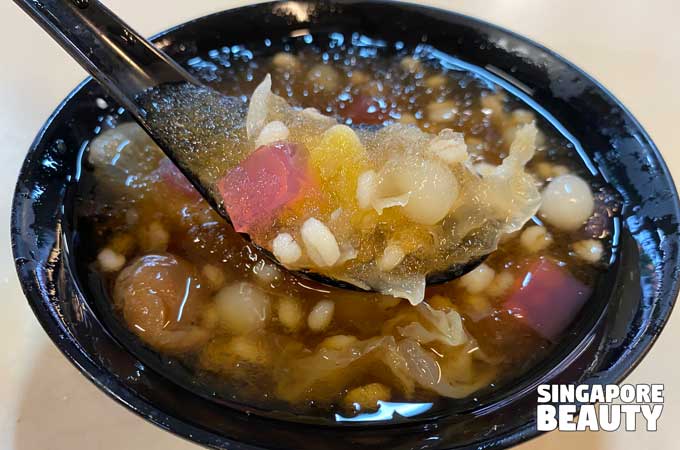 Ginkgo nuts are great when eaten in small quantity. The soft and chewy texture in a cold dessert is delightful. The ginkgo nuts are split to remove the inner stem which gives it a bitter and pungent flavour. This is the thoughtfulness and pride that the stall owners put into this bowl of dessert that cost only a mere one dollar. This dessert stall is a must try in Tanglin Halt Food Centre. Its amazing how much you are getting from this $1 Cheng Teng.
Operating hours:
7am till 9pm (off days are written on shop front periodically)
Location:
Soon Heng Hot & Cold Desserts Shun Xing Qing tian wu wei tang (顺兴清甜五味汤)
Tanglin Halt Food Centre Block 3A
3A Commonwealth Drive, #01-30, Singapore 141003