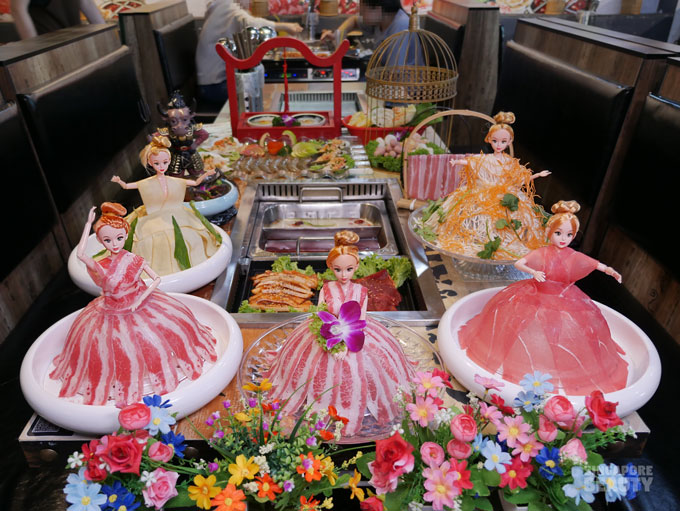 Bugis BBQ & hotpot 武吉士烤涮 is having a $15++ lunch BBQ with hotpot buffet promotion!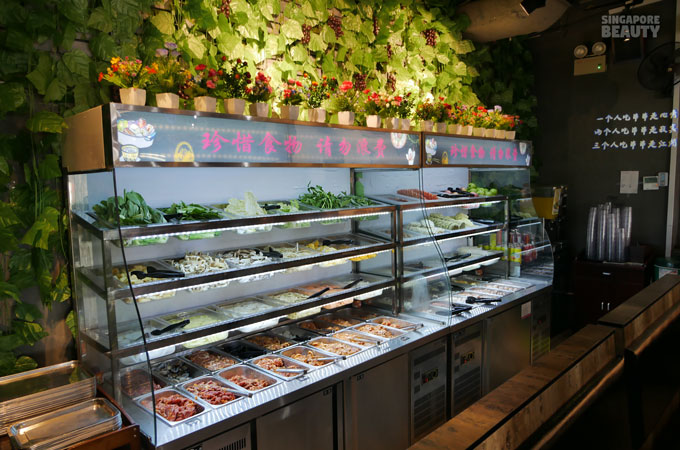 This 2 in 1 buffet has a good variety of good cuts marinated meats (beef, chicken, pork, pork liver) and a lean selection of seafood too!
Bugis BBQ are unique way of plating each dish are sure to wow every customers and for you to impress your love ones.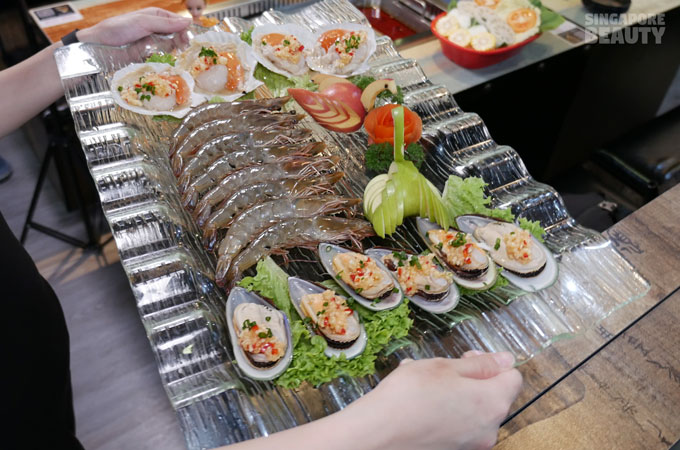 Unlimited servings of BBQ and hotpot seafood (included in buffet) such as prawns, garlic half shell scallops, garlic mussels, squid, flower clams and handmade fish paste.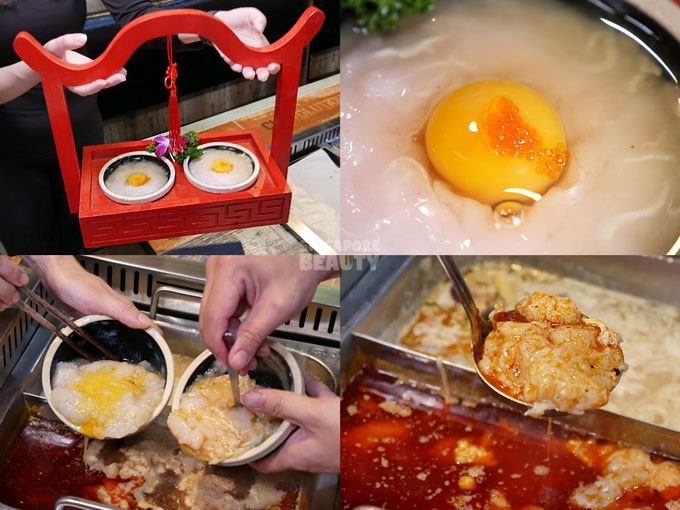 Fish paste is served in a festive red oriental carrier. Mix the fish paste with egg and fish roe well. Scoop them slowly into bubbling soup base. The handmade fish paste when cooked had a smooth and springy texture. It is a delight to pair these with some steamed rice.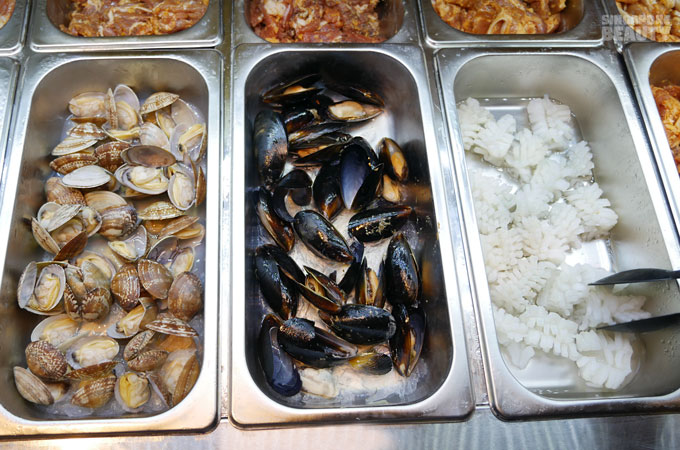 Help yourselves to the flower clams, mussels, dory fish and squid at the chilled display cabin.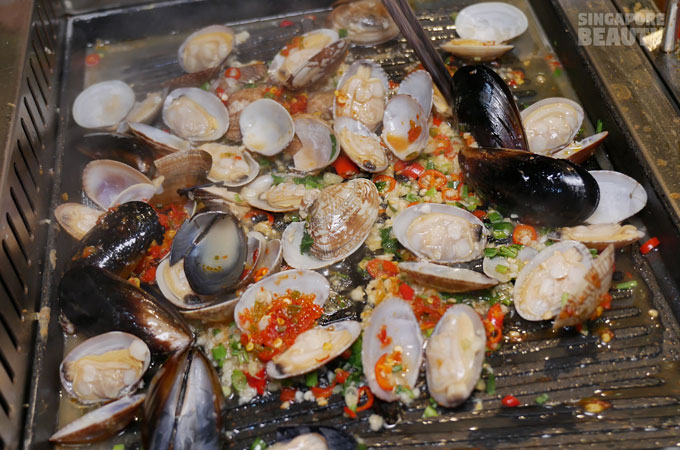 Grab as many as you can finish to make your own stir fry garlic chilli/ sambal /Thai chilli flower clams and mussels on the BBQ hot plate. The condiments are all available at the condiments station. This is so delicious and is a must try.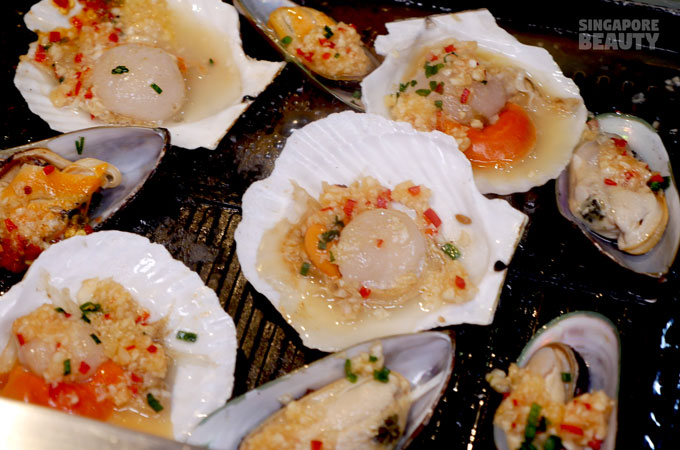 Or simply grill some half shell scallops with garlic and chopped chilli in their own briny juice.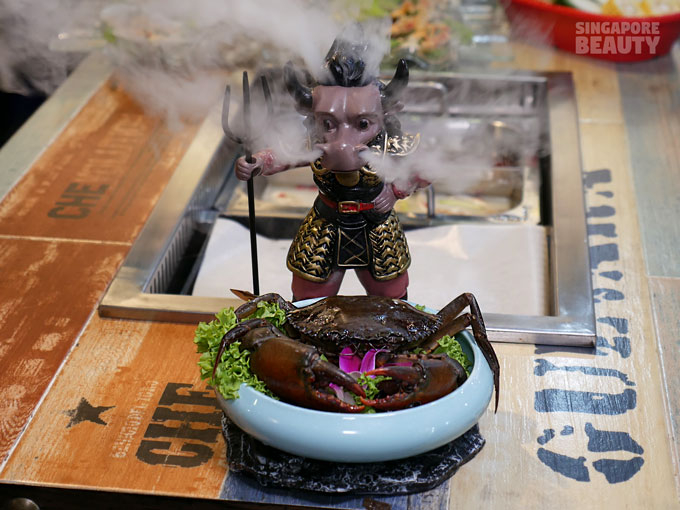 Crabs are escorted by a fuming ox-head (guardian of the underworld) to your table. Each mud crab is add-on of $12++ and not included in buffet.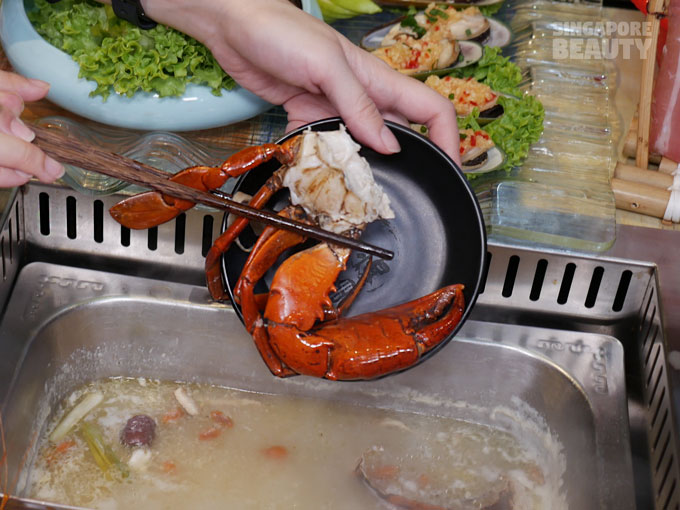 If you have a craving for mud crab, feel free to add on to your feast!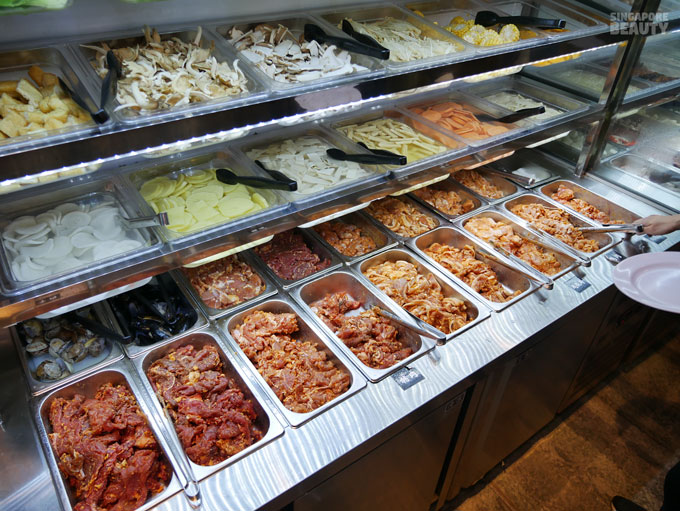 Help yourselves to unlimited servings from 15 types of marinated beef, chicken and pork at the chilled display cabinet.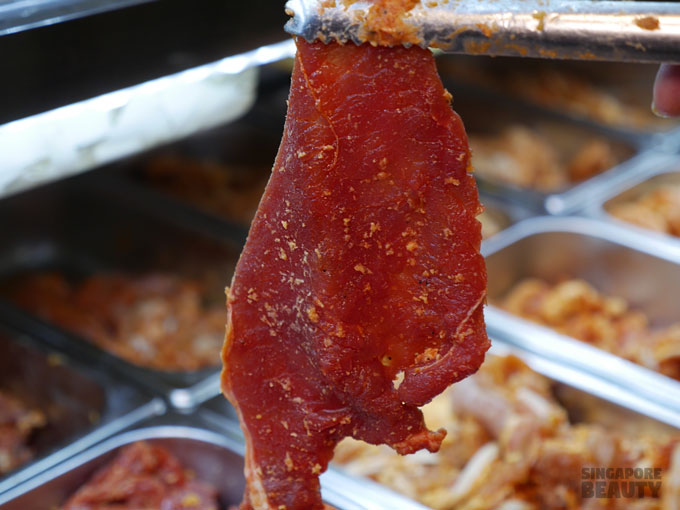 These BBQ meats are prepared daily and well marinated with several of their in-house special sauce.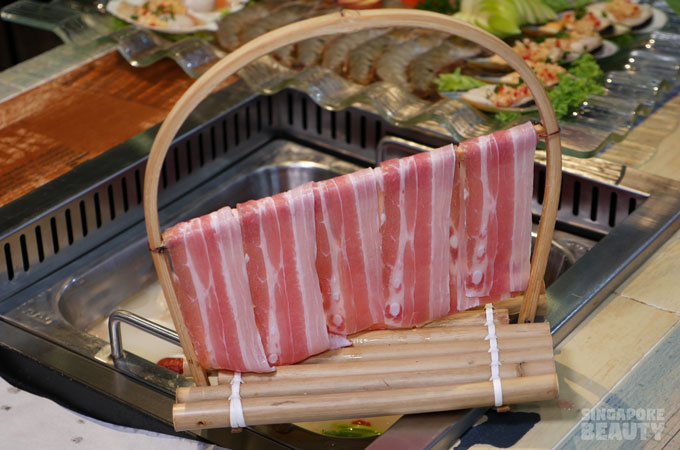 Among them are good cuts of meat such as pork belly, pork soft bone, chicken thighs and prized cuts of beef chunks.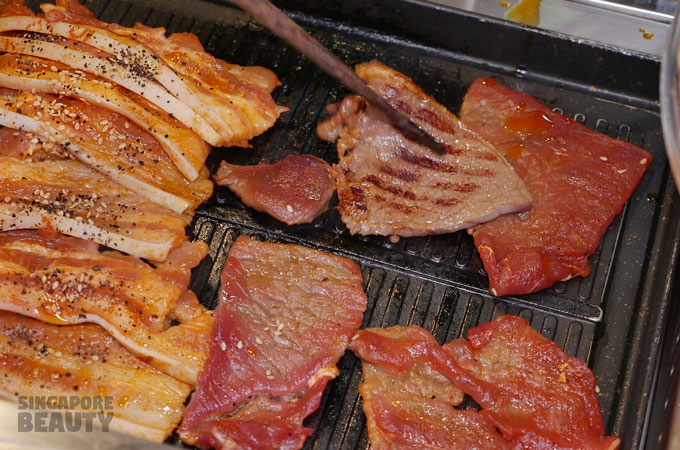 This meat remains tender after grilling and is easy to over dose on them as these are not overly greasy cuts of meats.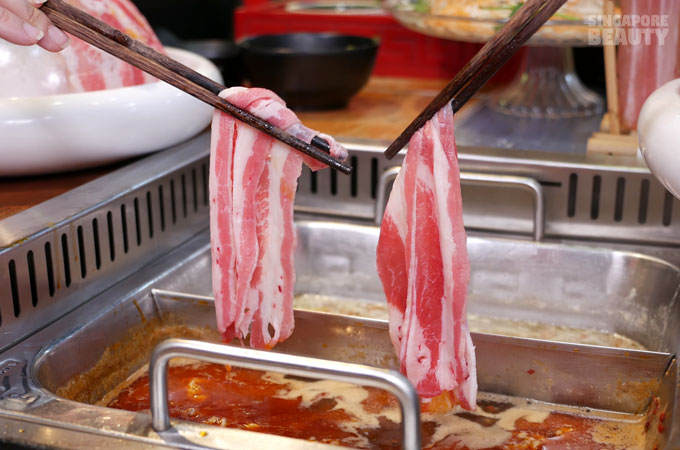 If you are a fan of shabu shabu meat, you can order the "lady GAGA" inspired dolls in "meat" gown.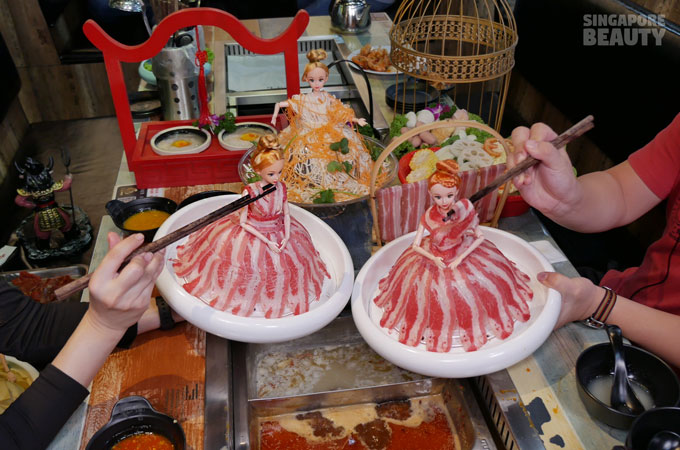 These dolls are dressed in ribbons of shabu shabu meat with varying proportions of meat versus fats ratio.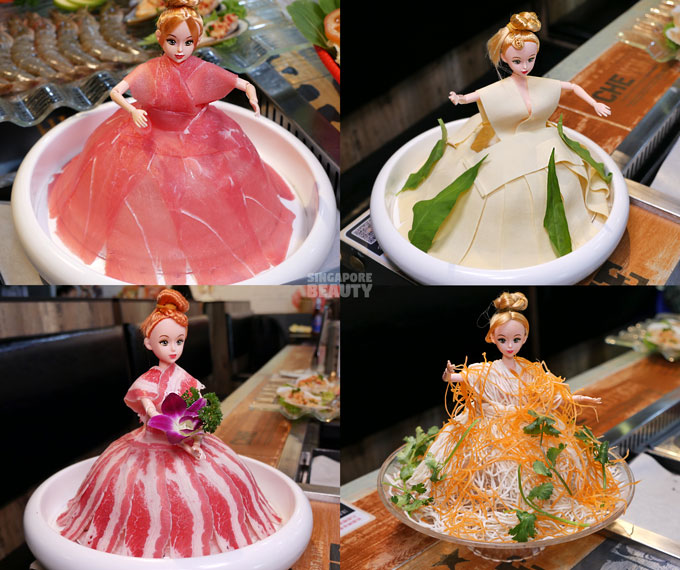 Order the dolls in dual coloured "pork belly" gown if you love crunchy bites of pork ribbons. If you prefer meat with a bite, you can order the dolls in red gown "lean cuts" of shabu shabu meat. Dolls in knitted "handmade noodles & carrots" gown. These dolls look too good to be eaten! How about a "plunging neckline bean curd skin" gown? The chefs might have a double degree in culinary arts and fashion as well. Very creative indeed.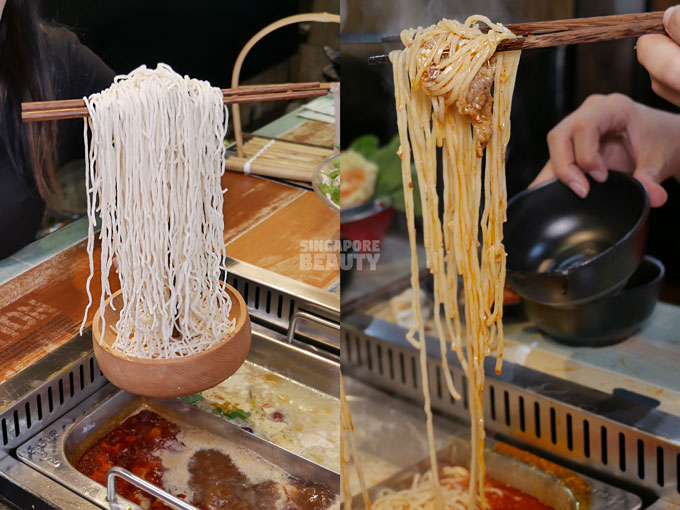 Magic flying noodles are also available in this buffet. Watch the noodle and chopsticks levitate in mid air and dump themselves into the bubbling soup base. Really?! The noodles are really yummy as they are cooked in the mala soup base. Full of the umaminess of the mala soup and al dente too. Slurp these noodles with the mala soup and my life is complete.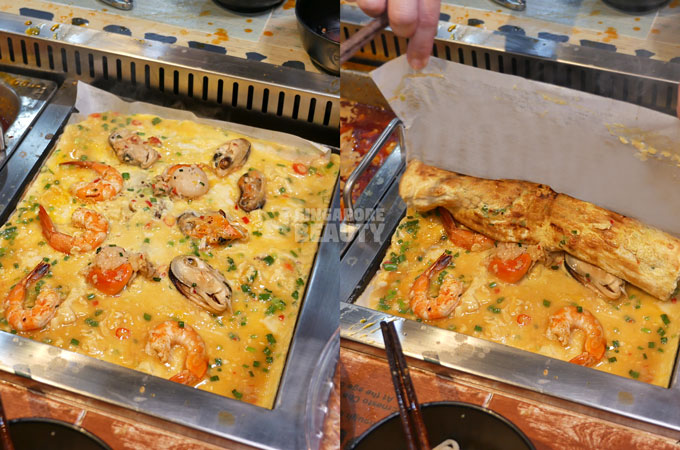 Create your own seafood omelette roll with prawns, mussels and scallop. Eat your fill and have fun at the same time!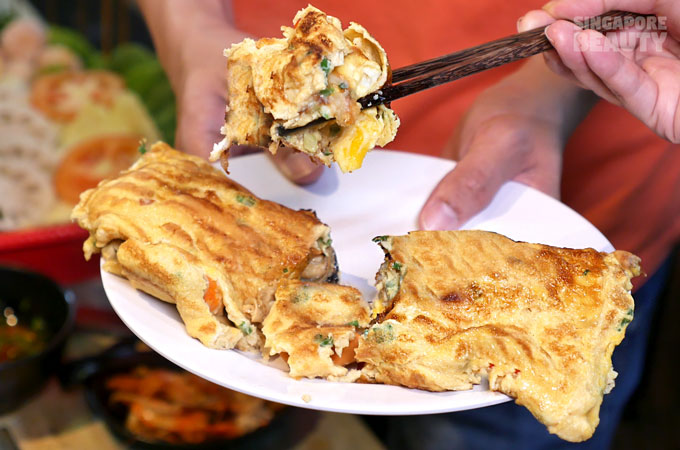 As with all omelette, these are best eat hot off the grill. Fluffy and tasty seafood egg roll.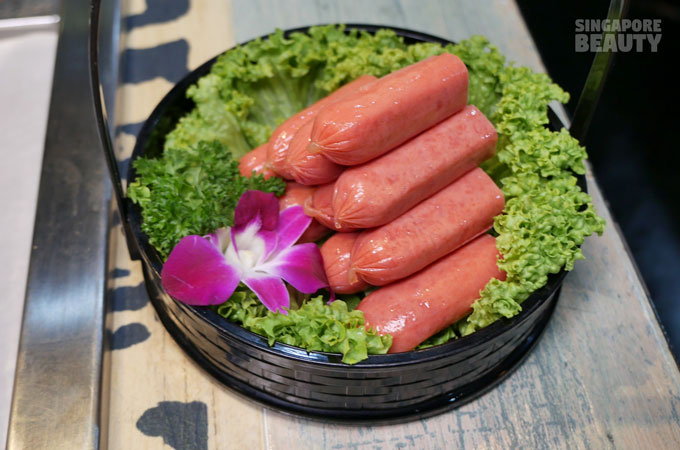 Grill unlimited amount of Taiwan sausage too!
Over 20 types of condiments to choose from. They have in-house brand of sesame oil for you to diy your own sesame oil chill. Per can of sesame oil is chargeable at $1++.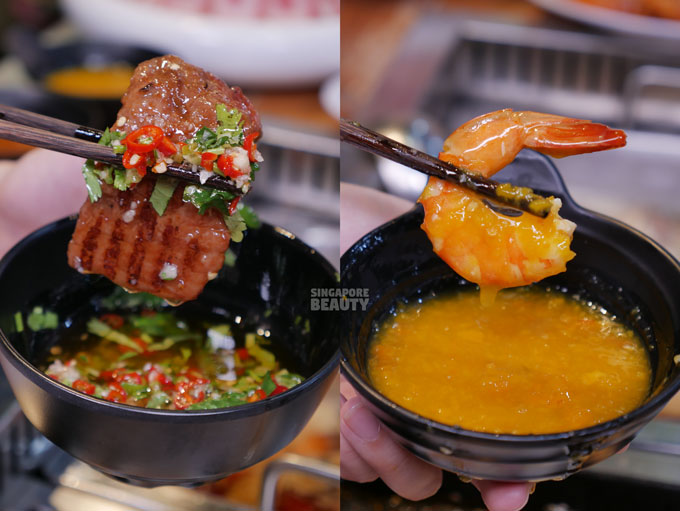 Great for grilled meat and shabu shabu items. The specially made chilli sauce (yellow one) is slightly pickled and spicy. Great for seafood items.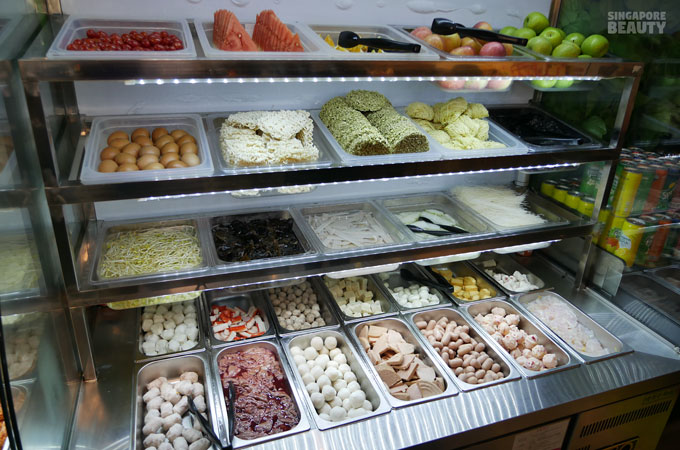 Want more? They have an assorted range of surimi (lobster balls, sotong balls, fish balls, meat balls, beef balls) crunchy sausage, luncheon meat, cheese tofu, fish roe balls, meat balls, crab sticks, soybean sprouts, black fungus, potato noodle, winter melon, vermicelli, Chinese Hong Kong noodles, spinach noodle, egg noodle, eggs. Free-flow fruits of the day such as watermelon, green apples, tomatoes, red apples and oranges.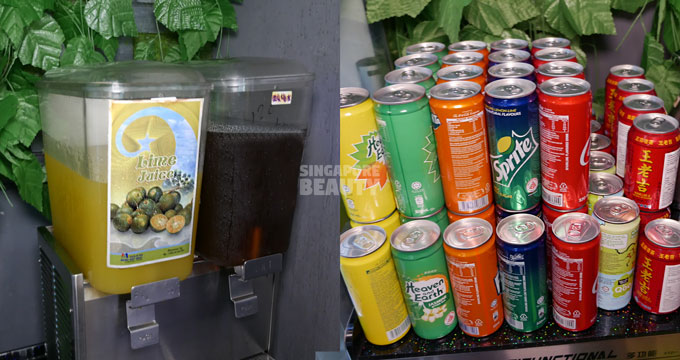 Add on $1++ per head for free flow homemade drinks such as lime and sour plum drink. Can drinks starts from $2++ each.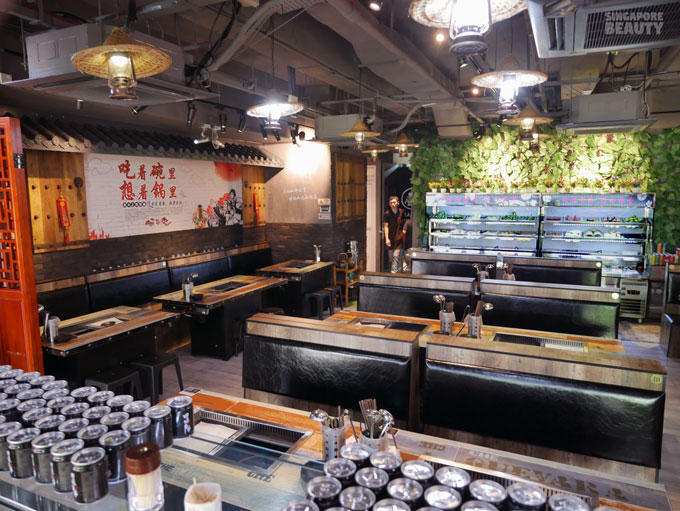 Indoor air conditioned cushioned bench seating, good for groups of 2 or more.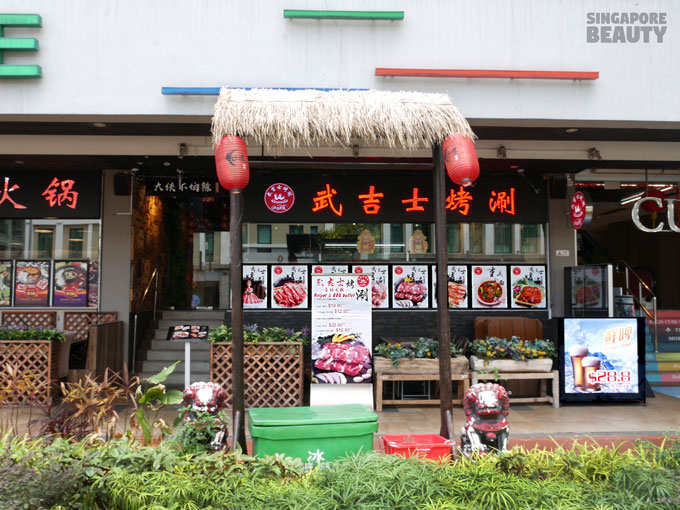 Hurry over to Bugis BBQ & hotpot武吉士烤涮 today at Bugis Cube.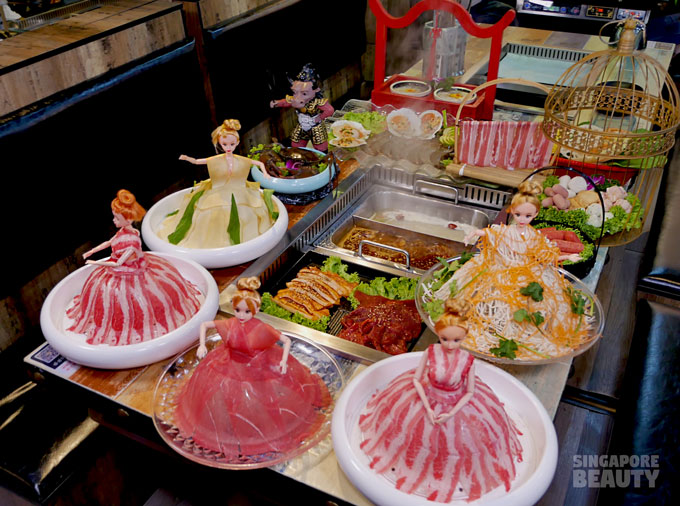 Bugis BBQ & hotpot 武吉士烤涮 is having a $15++ lunch BBQ and hotpot buffet lunch promotion with minimum 2 pax to enjoy this offer. All you-can-drink homemade drinks at only $1++ per head.
Weekday Lunch Time Promotion
Monday to Friday (exclude Public holidays and Eve)
$15.00++
minimum 2 pax to dine.
Usual Daily Buffet Price:
Lunch Buffet $18.80++
Dinner Buffet $22.90++
Others:
Single/Dual soup add $9++ per table
Drinks is free-flow at $1++ per pax, Can drinks starts from $2++ per can
++All prices subject to 10% service charge and 7% GST
Dine time
2hrs
Buffet operating hours
Lunch hours: 11.30am till 3pm daily
Dinner hours: 3.30pm till 2am daily
Location:
Bugis BBQ & Hotpot
470 North Bridge Road #01-01 , Bugis Cube, S188735
Reservations
Call them at (+65) 63383405
Brought to you by Bugis BBQ & hotpot 武吉士烤涮